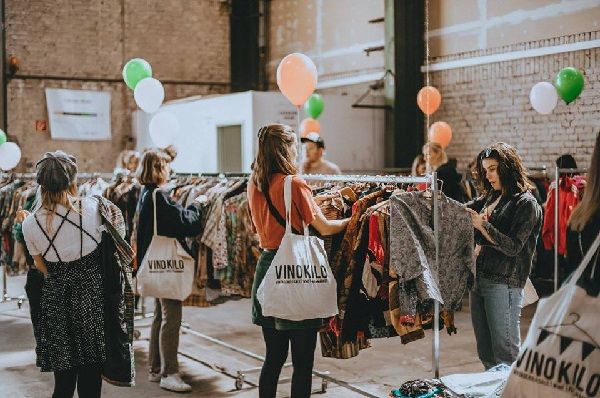 Credit: VinoKilo
A vintage kilo sale is coming to Luxembourg in the form of the "VinoKilo Pop-Up Sale", taking place on Saturday 7 September 2019 from 10:00 to 17:30 at LuxExpo the Box in Luxembourg-Kirchberg.
Bargain hunters will be able to buy handpicked vintage and second-hand clothes per kilo during this pop-up event, which involves live music performances, food and wine at LuxExpo.
VinoKilo is the stylish and sustainable alternative to the fast fashion industry and makes it easy to shop in a more conscious way. The business based in Mainz, Germany, sources vintage and second-hand fashion from around the globe, repairs it by hand and brings it back into the consumption cycle during special Pop-up-Events across Europe or online at vinokilo.com.
Commenting on the concept, Robin Balser, CEO and founder of VinoKilo, stated: "With each kilo sold, we bring back to life what would have been textile waste, which accounts for the largest amount of pollution after the oil industry''. He added: "So far, we've been able to put more than 154 tonnes back in the wardrobes of vintage lovers, but we always aim to do more, considering that there's a potential of about 800 million tonnes of unusable clothing worldwide''.
The goal is to create an endless life-cycle of curated clothes, that were originally supposed to be discarded, by making it accessible to the public. The message is clear: to see fashion less as a consumerist movement and more as a conscious mindset aimed at sustainability, quality and uniqueness.
Entry costs €3. Price per kilo is €40. Tickets are available via Eventbrite: https://www.eventbrite.co.uk/e/summer-vintage-kilo-sale-luxembourg-vinokilo-tickets-67968073337?aff=efbeventtix&fbclid=IwAR29d9Wvl-BPOsCHX_2bGN0TXQbjuy3pbv-xaO4BtarU5SomEplsG8130dc.