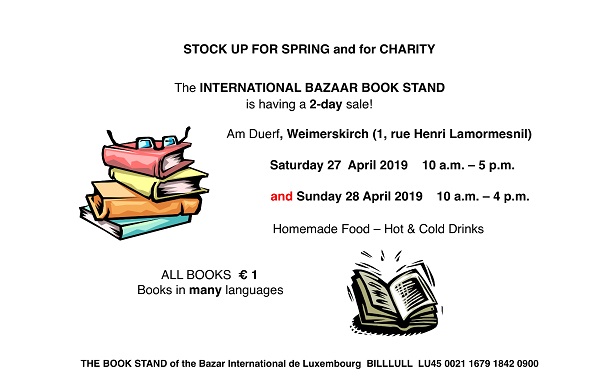 The Book Stand of the Bazar International de Luxembourg a.s.b.l. will be holding a two-day book sale at the Am Duerf Cultural Centre in Weimerskirch on Saturday 27 and Sunday 28 April 2019.
Books will be on sale from 10:00 to 17:00 on Saturday and from 10:00 to 16:00 on Sunday. All books, in English, French and other languages, will cost €1 each (cash payment only).
As usual, homemade food and hot and cold drinks will be available.
Buses 8 and 25 stop almost outside the door and parking is also available.
The proceeds from the sale will contribute to the International Bazaar's support for a range of humanitarian and charitable projects in many parts of the world.