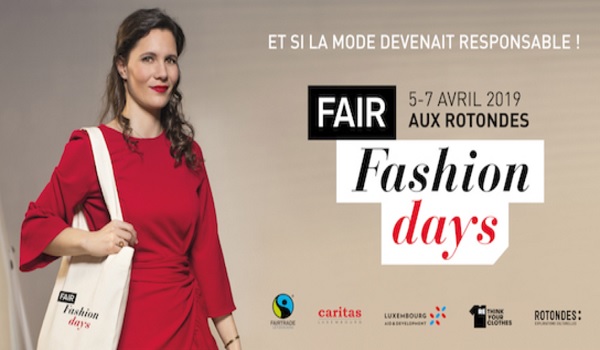 The Fair Fashion Days event, organised by the NGO Fairtrade Lëtzebuerg and the Caritas Foundation, will be held for three days from 5 to 7 April in the Rotondes, Luxembourg.
During her visit to Luxembourg in March 2019, Taslima Akhter, a Bangladeshi activist and photographer, highlighted the persistent precariousness of textile workers in Bangladesh, despite recent wage increases that are still significantly below of the living wage. Moral and sexual harassment, union repression, child labour, repeated accidents, exposure to toxic substances and pollution are other issues that punctuate this very complex sector all over the world.
Bringing an answer to the consumer and offering them new perspectives of more ethical and responsible purchases is at the heart of the "Rethink Your Clothes" campaign launched by the NGO Fairtrade Lëtzebeurg and the Caritas Foundation and supported by the Ministry of Foreign Affairs (Cooperation).
In this context, the Fairtrade Lëtzebuerg NGO and the Caritas Foundation are setting up the Fair Fashions Days event, featuring Fairtrade, GOTS and other certifications as well as creators of upcycling fashion labels. On the agenda will also be a fashion show, a playful and interactive exhibition and workshops for young and old.
The Fair Fashions Days will bring together Luxembourg and foreign actors committed to an ethical approach. This event will offer the public the opportunity to make textile purchases respecting human rights and the environment and to develop a critical view of consumption.