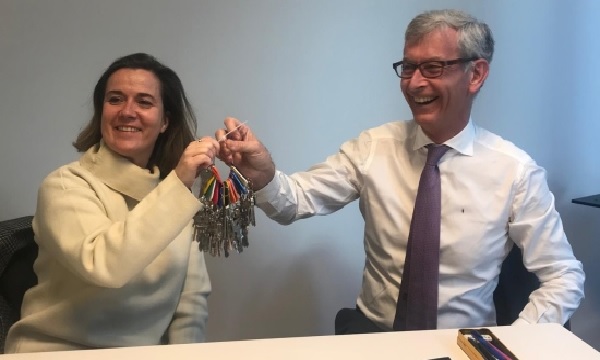 Paul Muyldermans (Technical Manager Codic Luxembourg) hands over the keys to Galeries Lafayette to Soizic Cochin; Credit: Royal-Hamilius
The long-anticipated Galeries Lafayette at Royal-Hamilius will open their doors in Luxembourg-Ville in November 2019.
Thirteen months after the signing of their lease and in accordance with the planned schedule, the Galeries Lafayette will begin interior design work on their new building in Luxembourg, signed by architects Foster + Partners in association with Tetra Kayser.
They now have nearly nine months of work to develop and sublimate their concept of "French art de vivre" and unveil it at the inauguration scheduled for the end of 2019.
Split across six floors, the shopping centre boasts 9,000m2 of space as well as three panoramic lifts and ten escalators, around a central atrium overhanging a glass roof. The main entrance overlooks the Grand Rue, a second entrance on the Boulevard Royal and access is provided from the Parking Royal-Hamilius.
The inclusion of a panoramic terrace on the sixth floor will also help to make this building a must-see destination in the heart of Luxembourg.