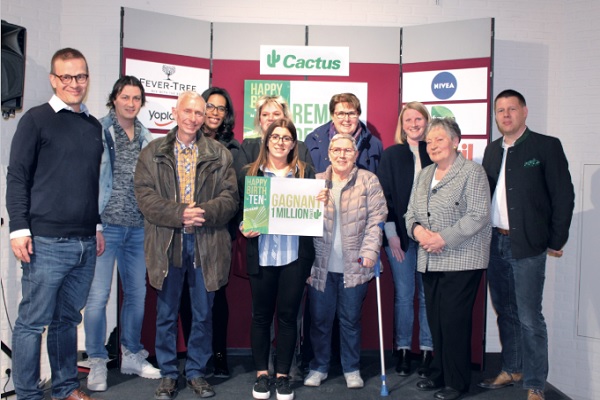 Competition winners pictured with Cactus Marketing Managers Marc Hoffmann (far-left) and Gilles Feipel (far-right); Credit: Cactus
To mark the 10th anniversary of its loyalty card, Luxembourg supermarket Cactus has awarded 10 customers €10,000 each.
Ten years ago, Cactus launched its customer card to reward its customers for their loyalty. In order to celebrate this anniversary, Cactus ran the "10 Joer Cactus Clients-Kaart" competition from 22 January to 3 February 2019, offering customers the chance to win €10,000 euros in Cactus shopping vouchers; this represents one million loyalty card points.
The official awards ceremony for the competition took place on 22 February 2019 at La Belle Etoile shopping centre. Cactus Marketing Managers Marc Hoffmann and Gilles Feipel congratulated the 10 winners.
There are currently some 293,000 active Cactus loyalty cards in circulation.