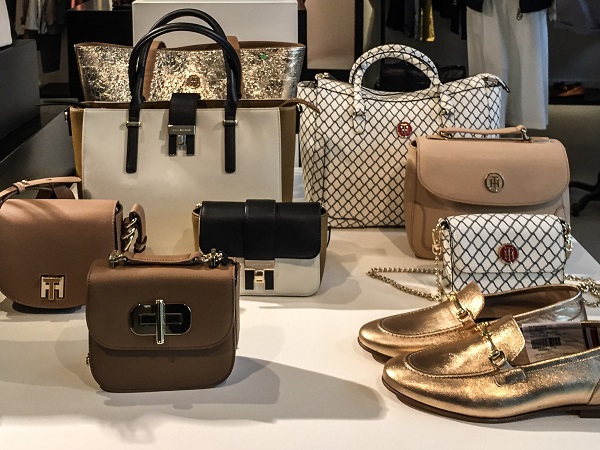 The Luxembourg Chronicle and Luxembourg fashion blogger Imena Ginac took a trip to Antwerp last week to get a sneak-peek at next year's Spring/Summer looks from a selection of leading regional and international fashion labels represented by Antwerp PR Companies Oona and UPR.
Imena explored dozens of shelves and rails full of the clothes, shoes and accessories that we will be wearing next year from labels as diverse as Diane Von Furstenberg, Uniqlo, Nike and Swarovski, and was able to pick up a few clues on how we're going to be looking as we head towards next September.
And it looks like there will be plenty to play with. There is a distinct appeal to femininity across so many ranges, with plenty of soft pastels, floaty fabrics and pretty layers, for example see Uniqlo, and also a sense of fun and liberty. A clear example came from Tommy Hilfiger whose collections evoked boating weekends at the Hamptons, along with some stunning maxi dresses and cottons that transcended boundaries feeling like silk under your hand.
At another level, Jonathan Saunders is the Scottish designer entrusted with the daunting task of holding up one of the most established fashion labels in the world, Diane von Furstenberg. Based in New York, he seems to have comfortably come up trumps with a collection that defied the floaty-pastel trend in favour of something much more autarkic and self-assured. Blocks of deep colours imbued with quiet self-belief work beautifully on asymetrical shapes to create clothes for women who do not need to ask anyone for anything.
According to Imena, one of the defining features for next year will be a mixing up of materials that will give a playful edge to the season. "A lot of trends like patches and metallics will still be there, but I think it is mostly the material of the pieces that is going to change. You'll have six, velvet and metallic all mixed up which will make it much more fun to mix and match pieces with the basics you already have in your wardrobe."
The Haileigh & Jamie website founder was also pretty happy to see the return of pointed flats, especially one she spotted by Jeffrey Campbell. "I found a pointed half-slipper that was completely covered in embellishments: golden details, with green, red and turquoise accents. For me, this is the kind of statement piece that I'm looking to add to my wardrobe. You can simply put them together with skinny jeans and a white top and the shoe does all the rest," she said.
Other key looks she spotted include bomber jackets, minimalistic jewellery, espadrilles and cross body bags. "Scotch & Soda had some magnificent pieces with plenty of detail in the back. Their new collection — much of it inspired by animals — is really fun and will appeal to a wide range of people," she said.
Trench coats also stood out, and a beautifully cut edition from Dutch label Denham would make a valuable and enduring addition to anyone's wardrobe.
The minimalistic look extends to jewellery and shoes too, with espadrilles back in fashion. Keep an eye out for another Dutch label, Catwalk, which has had fun playing with their selection of the comfy go-everywheres.
And even ritzy jewellery maker Swarovski, not usually associated with notions of understatement, has given it a go. "Swarovski has a lot of minimalist items in his new collection," said Imena recalling a beautiful ring with a black swan that near made her faint. Closer to home, Belgian designer Christa Reniers has a range of textured silvery jewellery in bold and blocky organic shapes inspired by nature that had huge appeal.
For more looks from Imena, and more on what to look for next year, take a look at http://www.haileighandjamie.com.