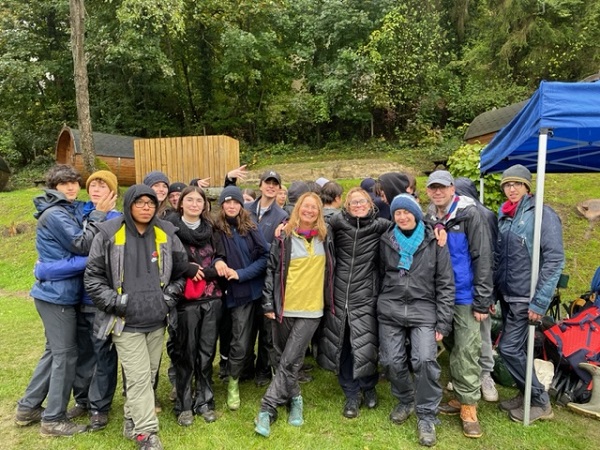 Telstar Explorers;
Telstar Scouts was started in 1974 and attracts English-speaking young people from across Luxembourg. In Telstar, there are four sections: Beaver Scouts (aged six to eight years), Cub Scouts (aged eight to ten and a half years) , Scouts (aged ten and a half to fourteen years) and Explorer Scouts (aged fourteen to eighteen years).
In continuing our series of articles on Telstar scouting in the Grand Duchy, Chronicle.lu talked with Nicola Laurent, Telstar Explorer Leader.
Chronicle.lu: How many Explorers are there in Telstar?
Nicola Laurent (Telstar Explorers): We currently have 32 Explorers. Usually we would have a larger group but this year there was some uncertainly with the leadership team so we kept the numbers down. I suspect next year this will increase again to 40.
Chronicle.lu: And how many leaders are there?
Nicola Laurent (Telstar Explorers): The leaders are: Nicola Laurent, Clare Dunn, Lynn Frank, Hayley Montague, Loic Khalafa, Joanne Bywood, Aaron Flynn, Richard Todd and Bruce Duxbury.
Chronicle.lu: Do you find it difficult to attract young people to your Telstar group, or is it, in fact, the opposite, i.e. a waiting list? What percentage of your Explorers graduate and come up from Scouts, and do many come in without any such background?
Nicola Laurent (Telstar Explorers): We have no difficulty attracting young people and, yes, at the moment there is a waiting list of 13, I believe. This will remain until next year as, due to training, e do early in the academic year, we only intake in September. The majority of our Explorers do come up from Scouts as about 80% of Scouts in Telstar move onto Explorers. However, we do also take in Explorers from the waiting list who have had no previous experience. It surprises me in a very positive way that so many young people wish to become involved in Scouting for the first time at age 14 plus. Many of those who come in have heard about us from their friends or are just looking for some fun and new exciting activities away from school.
Chronicle.lu: As is it difficult to attract leaders?
Nicola Laurent (Telstar Explorers): Yes attracting leaders is a bigger problem, although we appear to have a large leadership team it is difficult for adults leaders, with their many other commitments, to give too much time. It is generally quite easy to find adults prepared to help but finding those with the experience and confidence to take the lead for activities and camps is more difficult.
Chronicle.lu: How often do you meet, and where? Do you break over the winter / summer months?
Nicola Laurent (Telstar Explorers): We meet twice a month. If we are meeting indoors we often use the FNEL HQ (in Cents); however, we also do many outdoor activities and camps and these take place both in Luxembourg and abroad. We do not break over the winter months; in fact, we even hold a winter camp in February every year. During the school summer holidays we do not meet every second week, but we usually have some sort of camp or expedition happening over this period. These could be an Explorer Belt expedition, a 10 day expedition to a foreign country to learn about the culture and history, or a Merite Jeunesse expedition as we also run this award with our Explorers. This coming summer some of our Explorers will also visit the International Scout Centre at Kandersteg in Switzerland, which will be our third visit there.
Chronicle.lu: What indoor and outdoor activities do you normally do, and what is the balance?
Nicola Laurent (Telstar Explorers): Indoor activities over the years typically include cookery, crafts, games, first aid training, young leader training, poetry slams, board gaming, drugs and alcohol awareness, indoor sports day with the other FNEL Explorer, map and compass work and expedition planning.
Outdoor activities include scouting skills, survival skills, orienteering, kayaking, town monopoly, outdoor sports sessions (e.g. Lacrosse, Ultimate Frisbee), Merite Jeunesse expeditions at all three levels, winter and summer camps on a variety of themes.
The split between indoor and outdoor events is about 50:50
Chronicle.lu: What major events do you have planned for this (academic) year? Will this involve meeting up with other troops, etc.? And do you meet up with any of the other Telstar groups?
Nicola Laurent (Telstar Explorers): During this academic year we will run six Merite Jeunesse expeditions (two at each level), we have already held a Explorer Camp and a Merite Jeunesse training weekend for our new joiners, we will run a winter survival camp and a summer kayaking camp. Some of our Explorers will also be meeting with other groups at the Intercamp in the Eifel Germany in May and at Kandersteg Switzerland in the summer. We will also meet up with other Northern Europe BSO Groups at District Camp near Brussels. Although we have not camped with the other sections in Telstar this year, many of our Explorers are involved in the Young Leader programme. For this we give them leadership training for working with younger children and they then support the adult leaders across the other sections.
Chronicle.lu: What will having your own (Telstar's) premises mean to you and your Explorers and leaders?
Nicola Laurent (Telstar Explorers): It will be great to have our own premises. Often it can be a struggle to find accommodation especially for indoor activities and everything we need for these activities has to be taken with us every time, which means I have cupboards full of scouting equipment in my house. It will be lovely to be able to plans things at shorter notice knowing we have somewhere to meet and to have somewhere to store equipment so it is readily to hand. It will also mean we have somewhere to call home as a group, to display certificates, craft work, etc., that we want to be able to share with the other sections but currently are unable to. I think we will feel far more connected as a group and there will be more natural interaction between the sections.
For previous articles on this series, see https://chronicle.lu/category/scouts-cubs-beavers/43023-group-leader-rani-roloff-presents-telstar-scouts and https://chronicle.lu/category/scouts-cubs-beavers/43638-section-leader-ben-finney-presents-telstar-scouts-beavers.
For more details on Telstar Explorers, see http://www.telstar.lu/explorers