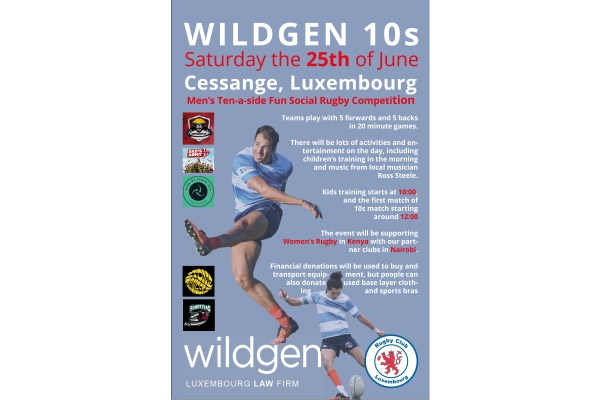 Credit: RCL
The Rugby Club Luxembourg (RCL) has announced the 2022 edition of the annual Wildgen Luxembourg Law Firm Men's 10 Rugby event taking place at Stade Boy Konen Cessange on Saturday 25 June 2022.
Teams will play with five forwards and five backs in 20-minute games. It will be a fun event with teams from the region enjoying a social end to the season. The lineup is as follows: HoneyBadgers, Dad's Army, Game of Touch, Stone Rangers and the Foresters.
There will be other activities and entertainment during the day, including children's training in the morning and music from local musician Ross Steele.
Children training will start at 10:00 while the first match of 10s will start around midday.
The event will be supporting Women's Rugby in Kenya with RCL partner clubs in Nairobi. Financial donations are welcome and will be used to buy and transport equipment. RCL also welcome donations of used base layer clothing and sports bras to support Women's Rugby team in Nairobi.