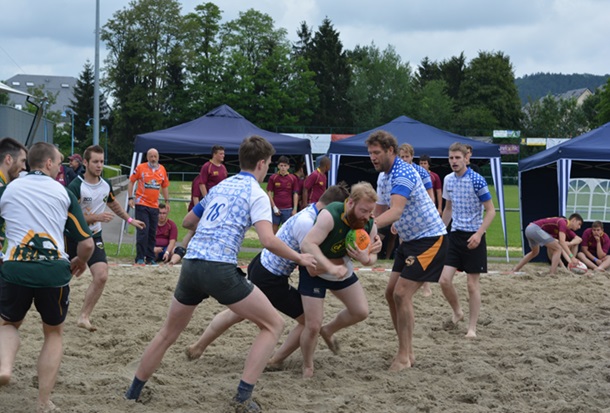 Credit: Walferdange Rugby Club
Next weekend, Saturday 1 and Sunday 2 June 2019, Walferdange Rugby Club will host their 14th annual Beach Rugby Challenge, the Challenge Nicole Carré, at the Prince Henri Stadium in Walferdange.
Played on sand, the participating teams (both male and female) will see 5 players per side playing barefoot in intense games lasting just seven minutes each.
This year, eight men's teams, six women's teams, four junior teams (Under 14 and Under 16) and a dozen school rugby teams from Luxembourg, as well as some from France, Germany and Belgium will compete throughout the day in the different categories and will try to win the tournament. Also up for grabs will be the trophy for the best player or most "fairplay" team.
The Grand Duchy's four official rugby clubs (Walferdange, RCL, CSCE and Terres Rouges), as well as the teams of the Lycée Ermesinde Mersch, will be participating the country on this occasion. In all, some 120 seniors and 150 juniors will be participating in the 2019 edition of this sporting event. The Saturday will be reserved for the senior (men and women) teams, competing from 09:00 until 19:00 in different group stages before the final. The junior and school teams will then have a chance to play on the Sunday, from 10:00 until 16:00.
The spectators - 500+ supported the 2017 edition - can also enjoy the various food stands and activities planned for children.
For full details, see www.walferdange-rugby.lu