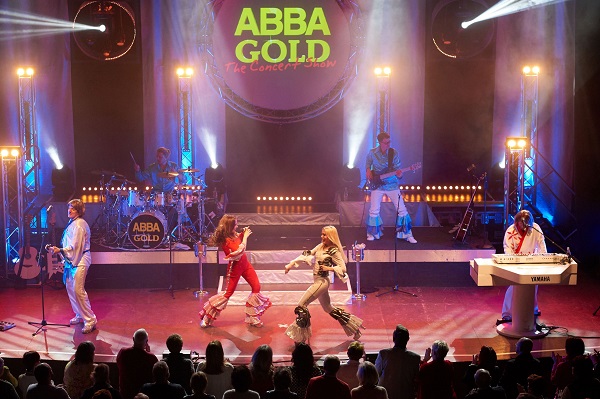 Abba Gold; Credit: WeLeon Entertainment © Jan Kocovski
Kultopolis has announced that Abba Gold will perform at the Trifolion in Echternach on Wednesday 16 January 2019 at 20:00.
The cult band ABBA is one of the most successful music groups of all time and delivers sound for generations with its immortal hits. The magnificent live show "ABBA GOLD - The Concert Show" ensures that the countless fans of the exceptional Swedish band can still experience the unique feeling of the unforgettable ABBA songs to their day.
"People Need Love" - ​​with this single Agnetha, Anni-Frid, Björn and Benny started their legendary career in 1972. In the current season, the title is more relevant than ever and delivers the consistent motto for the completely revised, rousing stage show of "ABBA GOLD".
That the super hits, with which ABBA dominated the discos in the 1970s and 1980s, inspire the audience today as well as then, can be seen evening after evening at "ABBA GOLD - The Concert Show". When glamorous pop and "earworms" from the glittering world are brought to the stage as perfectly as on "ABBA GOLD", the legendary pop band actually experiences a resurrection. Because not only musically is "ABBA GOLD - The Concert Show" an impressive revival, also the performance leaves nothing to be desired: with the latest technical means as well as on a completely redesigned stage, the original ABBA feeling is presented in the "here and now". From the original costumes to the Swedish accent of admired role models - every little detail is authentic ABBA. The original show is enriched by the stage technology possibilities of the 21st century: in addition to unplugged world hits, a video show with live camera and a modern retro light show provide a truly "golden" concert experience.
With a mix of catchy and sophisticated at the same time, melodies that go straight to the ear, and a perfect performance ABBA was absolutely style-defining. The music of the cult band is still unmistakable and a guarantee for "Happiness" for a broad audience: The ABBA feeling is still alive.
"ABBA GOLD - The Concert Show" is a fascinating experience for young and old and a top-class event.
Tickets are available in advance from €40 at www.kultopolis.com and standard ticket outlets, as well as via the ticket Hotline, tel: 20301011 or 4708951.