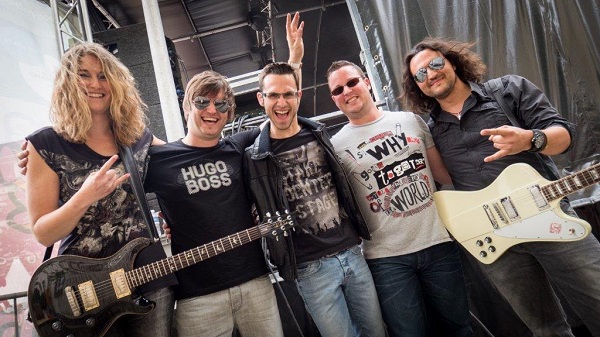 Luxembourgish pop-rock group Go By Brooks have announced they will be supporting Ron Sexsmith and Eric Martic (Mr. Big) at a concert in Dudelange on Thursday 29 October 2015.
The band is made up of Laetitia Koener, singer, guitarist and instigator of the project; Jérôme Moes on synthesiser and backing vocals; Gilles Krein as drummer and percussionist; Sacha Heck on bass; and, most recently, newcomer Nicolas Palumbo, who provides guitar.
The group, who have taken inspiration from the likes of Leonard Cohen, Lissie and Damien Rice, has experienced great success with songs such as 'Dancing with the Devil', 'Beautiful Loser' and 'Streets of Paris' - a Luxembourg favourite. The band has also claimed a name for themselves on Luxembourg's music festival scene, with performances in the last three months at Fête de la Musique, Cultural Festival and in the supporting line-up for Christina Stürmer at Festival de Wiltz.
Ron Sexsmith, who will be supported by Go By Brooks this October, rapidly established himself as one of the most talented songwriters of his generation since he was discovered in 1995. Despite being adored by renowned artists such as Elvis Costello, Radiohead, Paul McCartney and Bob Dylan, the Canadian talent is known for his humility and discretion, with the gentle and graceful melody of his pop-folk-soul creations denoting a poignancy and unforgettable quality to his voice.
Ron Sexsmith's new album, which was releases in March 2015, assembles a cast of top-notch musicians with an astonishing array of experience, including bassist Bob Glaub, who has worked with huge talent such as John Lennon, Lucinda Williams, Jackson Browne and Dolly Parton; guitarist Jon Graboff (John Lee Hooker, Dr. John); drummer Don Heffington (Bob Dylan, Emmylou Harris, Lone Justice) and keyboard player John McGinty (Dixie Chicks, Neal Casal, Matthew Sweet). His thirteenth studio album 'Forever Endeavour' won the Juno Award for Best Alternative Album.
Eric Martin (Mr. Big) has also experienced global success in his own right, since starting his career in the 1970s as a singer in the San Franciscan group '415'. He continued to write songs after leaving the original group, releasing the album 'I'm Only Fooling Myself' in 1987 which stood out from the crowd through the soul of his voice and authenticity in his lyrics. In 1988-89 he formed the band 'Mr. Big', comprised of Billy Sheehan, Pat Torpey and Paul Gilbert, which went on to experience worldwide success with tracks such as 'To Be With You'. Although Eric Martin has since left the band, the quartet continue to perform concerts together.
Go By Brooks will also be performing at the Funky Donkey Festival in Clervaux on 12 September 2015, and Slide Night 2015 at Rotondes on 8 October 2015.
Photo by Go By Brooks