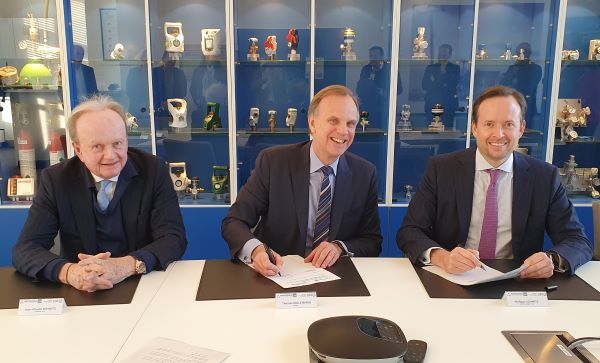 (L-R) Jean-Claude Schmitz, Chairman and CEO of Rotarex; Dr Thomas Kallstenius, CEO of LIST; Philippe Schmitz, Director and Deputy CEO of Rotarex.; Credit: Kangkan Halder / Chronicle.lu
On Tuesday 13 December 2022, the Luxembourg Institute of Science and Technology (LIST) signed a memorandum of understanding (MoU) with Luxembourg-headquartered Rotarex, a company specialising in producing gas cylinder valves, regulators and pressure gauges, to develop a coating for ultra-high purity gas applications.
The agreement was signed in the presence of Dr Thomas Kallstenius, CEO of LIST, Dr Damien Lenoble, Director of Materials Research and Technology (MRT) department, Jean-Claude Schmitz, Chairman and CEO of Rotarex, Philippe Schmitz, Director and Deputy CEO of Rotarex, and other representatives of the two parties at the Rotarex headquarters in Lintgen.
During the presentation of the project to members of the press, a Rotarex representative explained that the ultra-high purity gas applications as in the case of speciality gases, semiconductors fabrication, electronics, etc, must maintain gas purity in the range of 1ppb (parts per billion). This demanding environment also in turn requires the valves to maintain their integrity, especially if the gases concerned are corrosive or are of highly reactive nature. Consequently, Rotarex and LIST came together to develop and test at least two different surface coating materials with four to five different ultra-high pure and/or corrosive speciality gases.
Under the agreement worth €1.7 million, LIST's MRT department will engage its expertise in developing the coating material and test its reactivity with different gases under laboratory conditions. The project is initially planned for two years.
Speaking to Chronicle.lu, Dr Kallstenius said: "I think it is a fantastic collaboration. We have a long term engagement with Rotarex and it is one of the truly national champions in innovation. They are really in the forefront of the technology in their very specific niche of valves and they continue to be a world leader in this niche. Now looking forward, indeed we have European chip-fab [semiconductor chip fabrication] coming, so we try to enhance how we can produce and develop chips in Europe. And Luxembourg can truly play a role through technologies developed together with Rotarex, and this is a good example of that. From this perspective, if we can help Rotarex to continue being very successful in their respective domain, that is also our job as a research institute, and Rotarex is one of our key study partners". Dr Kallstenius thanked Rotarex for its support and said he looked forward to this collaboration and the challenge of developing new coating materials with Rotarex.
Dr Lenoble added: "It is important for us to make sure that our research can be applied to concrete challenges, mainly driven by a priority of Luxembourg industries. That's why we are very pleased to have such a collaboration with the national champion Rotarex. And clearly the ambition in moving into and growing in the semiconductor industry is something quite challenging in terms of the requirements to fulfil. Here we are happy that Rotarex have selected us to collaborate with us because it is also a recognition of the expertise that we have developed [for] more than ten years into the coatings technology. Of course we have developed coatings for different applications like anti-scratch, anti-bacterial, etc. But here we have a panoply of technologies and film materials that can be applied to a specific research challenge. We are extremely pleased about this recognition and collaboration".
Philippe Schmitz and other representatives of Rotarex then gave a guided tour to the press and LIST representatives of the 15,000 m2 facility equipped with state-of-the-art machinery to produce valve and other specialised products. Rotarex employs about 1,000 people in Luxembourg and an additional 600 globally.