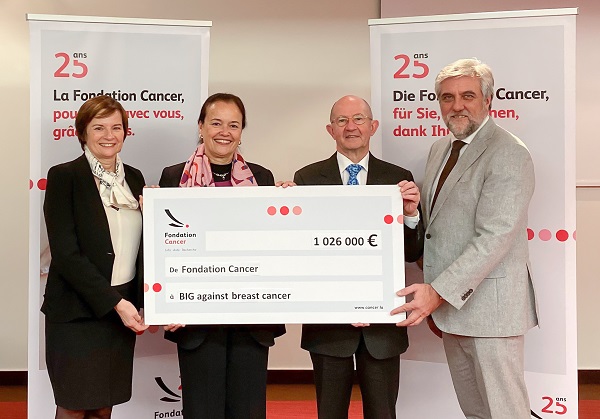 L-R: Lucienne Thommes, Director of Fondation Cancer; Prof. Dr. Martine Piccart from BIG; Dr. Carlo Bock, President of Fondation Cancer; Serge Schmitz from BIG; Credit: Fondation Cancer
Luxembourg NGO Fondation Cancer has donated over €1,000,000 to the Breast International Group (BIG) for its research project aimed at better understanding metastatic breast cancer.
To support this research, Dr. Carlo Bock, President of Fondation Cancer, and Lucienne Thommes, Director of the NGO, recently presented BIG representative Prof. Dr. Martine Piccard with a cheque for €1,026,000.
This donation will go towards supporting the BIG "Aurora" research project, a programme which aims to gain a better genetic understanding of the progression of breast cancer and, above all, to identify the anomalies that cause metastases.
Like a navigational assistant tracing a route, this ambitious programme will map the path taken by cancer cells by analysing their mutations in a large series of genes. By anticipating the routes taken, the hope is to be able to block them (with very targeted drugs, for example) and thus slow down and even stop the metastatic process.
Thanks to the collaboration of more than 60 hospitals in twelve European countries, the programme will follow 1,000 patients for up to ten years and analyse their tumours. Due to its scope and ambition, the Aurora programme is expected to produce many results, spread over several years. The first scientific results were presented at the ESMO Breast oncology conference in Berlin in May 2019.