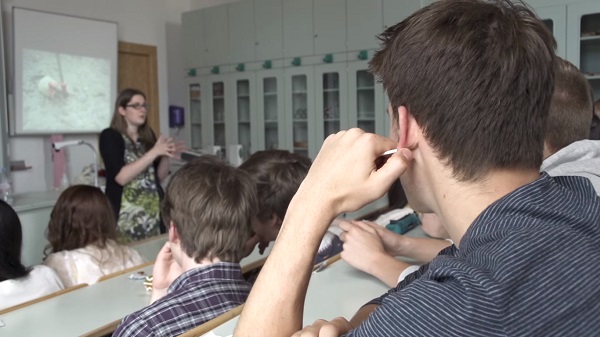 From Monday 14 to Friday 18 March 2016, the National Research Fund (FNR) held the sixth edition of its 'Researchers at School' ('Chercheurs à l'école' in French) campaign, aiming to present the research profession to the general public.
Through the campaign, researchers from public institutions and the private sector are able to convey their own experiences to students, enabling the latter to ask questions about research being conducted in Luxembourg whilst the former is able to get direct feedback through working with the country's youth. This year, 64 researchers took part, interacting with 48 classes across 21 schools.
"This is a very good initiative," commented Anne Dirkse, PhD student at the University of Luxembourg and in the laboratory of Professor Simone Niclou of the Luxembourg Institute of Health (LIH). "I would have liked to have the opportunity to meet a researcher whilst I was in high school. It give me even more pleasure to convey something to students today, and see how much they are interested in my work. Moreover, I learned to communicate my research to a new audience. It was the first time that I spoke in front of students."
"The path of a researched is not always straight and there are different paths," added Claudine Wolff, biology teacher at the Lycée Classique Echternach. "I appreciate that our students are receiving an overview of this diversity and the current state of technologies. And the research shows his commitment and the students can feel this - they realise that there is a real person behind the image of research! A manual is rarely a source of inspiration - it is passionate people which motivate us."
The FNR has cited the promotion of science and research in Luxembourg as a primary objective, with the government investing heavily in this sector in recent years. However, as the country is still new to scientific research, the domain remains somewhat of a mystery to many. For this reason, the FNR developed projects such as 'Researchers at School' to realistically present and, in so doing, enhance the researcher profession with the public.
Watch a video of the 2014 campaign below:
Photo and video from YouTube/ScienceLuxembourg