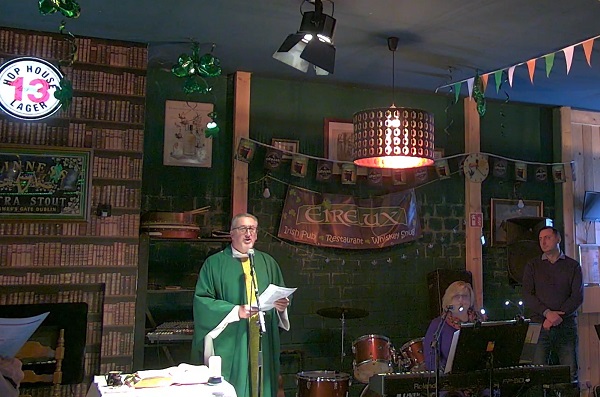 Fr Michael Cusack leads Mass at Irish Pub & Restaurant Eirelux on Sunday 22 January 2023; Credit: International English-Speaking Catholic Community
The International English-Speaking Community of the Parish of Luxembourg Notre Dame is currently looking for a new permanent space to hold its Sunday morning Masses, following the closure of St Alphonse Church in Luxembourg-Ville for extensive renovation works.
Chronicle.lu sat down with Fr Michael Cusack, Priest of the International English-Speaking Catholic Community, to learn more about this search for a "new home".
As he explained, the Redemptorist church of St Alphonse in Luxembourg city centre has been the International English-Speaking Catholic Community's home for almost ten years; the community moved there from St Peter and Paul Church in Luxembourg-Hollerich in July 2013.
He noted that the community had decided to search for alternative premises due to long-term repair and renovation works at St Alphonse Church, which began on Monday 16 January 2023 and the duration of which remains unclear (the community had been told it could take up to six years). Whilst the Saturday and Sunday evening Masses are now being held in the garden chapel at St Alphonse Church and in the nearby St Michel Church, respectively, it has proven challenging to find a suitable alternative space for the larger Sunday morning Mass, which typically attracts about 600 people.
As Fr Michael Cusack explained, Luxembourg's International English-Speaking Catholic Community comprises about 70 nationalities and represents a "wonderfully diverse group" of people of all faiths. For the larger Sunday morning group, the community is looking for a new place of worship that is centrally located (Luxembourg City) and meets the following needs: preserves the sense of community, accommodates preparation for the sacrements (catechism) and children's liturgy, and accommodates the welcoming committee for newcomers. He confirmed that the community had been offered and had investigated several alternatives, including at other churches, but that these did not meet the aforementioned needs. "We are looking for a place to call home, not just to pop in and out," Fr Michael Cusack stressed, adding that to ignore these needs would be "sacrificing too much of what has been built up by so many people over so many years". There are also technological considerations (e.g. camera set-up to live stream services) as well as budgetary considerations and the challenge of finding a venue with both sufficient capacity and availability - many other churches in Luxembourg have religious services around the same time on Sundays.
In the short term, Irish Pub & Restaurant Eirelux in Howald offered to host the Mass on the morning of Sunday 22 January 2023. Fr Michael Cusack expressed his gratitude, on behalf of the International English-Speaking Catholic Community, to Vincent, Adrienne and Sophia of Eirelux for giving the community "a really warm welcome", not least on a day when the venue is typically closed. Last Sunday's Mass was well attended and received "amazingly positive feedback", according to Fr Michael Cusack, who welcomed the fact that everyone present joined in the singing (rather than just the choir) on this occasion; this added to a "sense of togetherness". Eirelux will also host this coming Sunday morning Mass, after which attendees can stay for a social open mic event. Fr Michael Cusack emphasised the importance of this "sense of community that has been built up over more than 50 years".
In the long term, the International English-Speaking Catholic Community is open to various possibilities; the venue does not necessarily have to be another church but could be a cultural centre (although those the community has already considered were unavailable on Sunday mornings) or elsewhere. The main focus is on finding "a place we can call home", somewhere that is "accepting and welcoming of this varied community of committed believers whose common language is English", noted Fr Michael Cusack.
Anyone who may have a suitable venue is invited to get in touch with the International English-Speaking Catholic Community (website: catholic.lu). "All suggestions are very welcome," concluded Fr Michael Cusack.