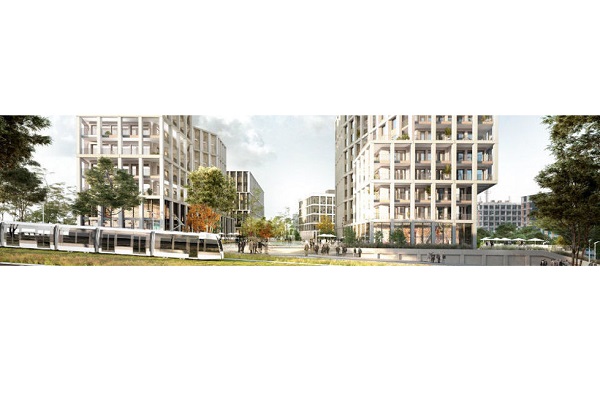 Credit: Groupe Capelli
Luxembourg real estate developer Groupe Capelli has presented its new residential project in Luxembourg-Howald: "South Village".
Located on Rue des Scillas, South Village is a 21,000 m2 (maily residential) property complex, which will be directly connected to the new public transport offer implemented on site. The complex forms part of a larger project being developed according to the special development plan established by the architects' studio Beiler François Fritsch. Groupe Capelli will contribute to the development of two lots.
"The work has now started with the demolition of the infrastructures present on the site. It is also entering the marketing phase", explained Jean-Pierre Lequeux, Managing Director of Capelli Luxembourg. "We are very proud to be able to present this residential complex, which fully participates in the new face of the area".
With its Howald project, Groupe Capelli has confirmed its ambition to invest in the Grand Duchy and to contribute to the implementation of quality living spaces.
"This project, representing around €200 million in turnover, is one of the most important that we are currently carrying out at the level of our group and the largest that we have developed in Luxembourg", continued Jean-Pierre Lequeux. "On two lots, this mixed complex should accommodate a little more than 130 housing units, a restaurant, a convenience store, two floors of offices and co-working and co-living spaces".
According to Groupe Capelli, South Village is "designed as a qualitative and friendly place to live, in the heart of a space dedicated to pedestrians and soft mobility, anchored in the dynamics that animate the Luxembourg capital".
On the one hand, the site will be served by the tram which will run from 2023, at the level of the current Rue des Scillas, between the Cloche d'Or and Luxembourg's city centre. On the other hand, the building complex will offer direct access to the platforms of the Howald railway station. Lanes dedicated to soft mobility will facilitate access to the new Cloche d'Or district on foot or by bicycle.
Groupe Capelli counts more than 20 real estate development programmes in Luxembourg. Its most recent deliveries are a residential complex in Strassen as well as the Capelli Towers in Esch-Belval.