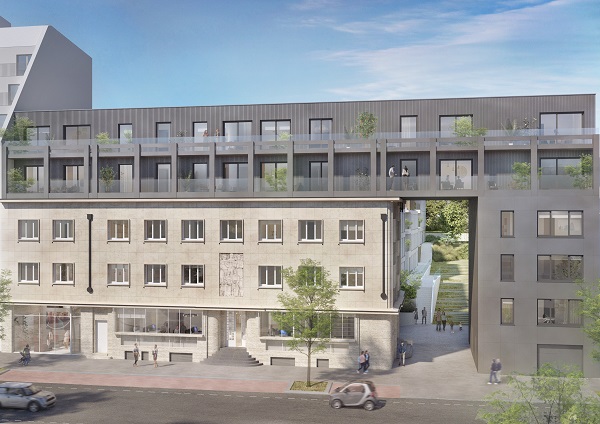 Above: Canal 44; below: River Place; Credit: Immobel
Real estate company Immobel has announced the launch of two new residential projects in Luxembourg.
On 22 March 2021, Immobel will offer for sale 108 new housing units spread over two locations in Luxembourg City and Esch-sur-Alzette. In total, 14,000 m² will be set aside for shared spaces, soft mobility and greenery.
River Place (Luxembourg City)
Located on the current site of the Abitare shop in Luxembourg-Dommeldange, River Place will encompass 35 new "high-end" housing units on the banks of the River Alzette in Luxembourg City. This real estate project will combine traditional housing and co-living units in a green and yet urban setting. The development will from the outset be connected to Luxembourg-Kirchberg and the shopping centre via a cycle path and by train.
Spread over a total surface area of 8,000 m² and in four residential buildings, this predominantly residential mixed-use complex is based on a "suspended gardens" concept built on a base of services, shops and / or liberal professions.
Designed by the architectural firm Art & Build, the project provides for the integration of vibrant and shared landscaped areas aimed at bringing a high-quality urban renewal to the area around the station by making people, plants and sustainable development the focus of attention. The construction works are scheduled to begin in mid-2022 and will last 24 months. Sales will be carried out by the CBRE and Inowai agencies.
Canal 44 (Esch-sur-Alzette)
Located a five-minute walk from Rue de l'Alzette, at 44 Rue du Canal, the project provides for the complete renovation of the historic building as well as the creation of three new residential buildings with courtyard views. With a total surface area of 6,200 m², this mixed-use residential development will offer 72 new housing units as well as 300 m² of services accessible on the ground floor.
Floriane Place, project developer, explained: "The car parks located in the basement help to free up the surface and to structure the project around an island of landscaped greenery. This garden serves the four residential buildings containing housing units of all types, from studios to three-bedroom properties, with a preponderance of small units. We believe that the development of connections between Luxembourg and Esch, in particular that of the rapid tram, will amplify the growing attractiveness of the town of Esch, which is becoming a real alternative to Luxembourg City for occupants and investors".
This building, which is the former headquarters of the Editpress group, and in particular its iconic façade as well as several original architectural elements will be the focus of particular attention from the architectural firm A/2618. The decontamination and demolition works started in February 2021 and construction is planned for April 2022 with a view to delivery in mid-2024. Sales will be carried out by the Unicorn and Inowai agencies.