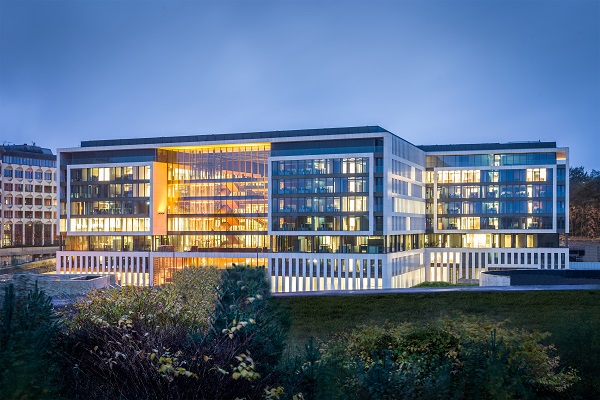 Ferrero headquarters in Luxembourg; Credit: BESIX RED
Belgian real estate development company BESIX Real Estate Development (BESIX RED) has announced the delivery of the new global headquarters of Ferrero International Agribusiness Group in Luxembourg.
Located next to Luxembourg Airport, the 29,500 m2 building, developed in partnership with Luxembourg construction company Félix Giorgetti, promises to provide a new work experience for the Ferrero Group's 1,200 employees. The focus here will be on user interaction and well-being, thanks to flexibility, space optimisation, ergonomics and new ways of working.
Seeking the optimal response to the Group's needs, BESIX RED and Félix Giorgetti joined forces and real estate assets to allow for a larger scale development. At the architectural level, Perry Weber was responsible for the design of the building, whilst the French branding and design agency Lonsdale was in charge of the interior architecture.
The Ferrero building is not the first of BESIX RED's projects in Luxembourg. Its earlier residential and office projects include Soho and Impulse in Luxembourg-Gare and Kons, which houses the ING Luxembourg Head Office, in the city centre.