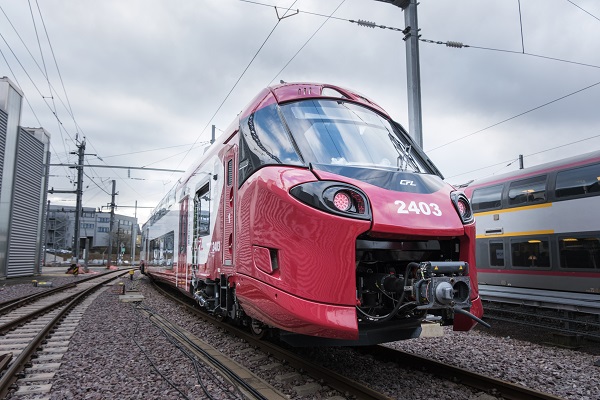 On Friday 6 January 2023, Luxembourg's railways, the CFL, received delivery of the first "Coradia Stream High Capacity" railcar ordered from Alstrom in Spain.
Luxembourg's Deputy Prime Minister and Minister of Mobility and Public Works, François Bausch, together with the Chairman of the Board of Directors of the CFL, Jeannot Waringo, the Director General of the CFL, Marc Wengler, and CFL Project Manager for the acquisition of this new series, Mike Strotz, were on hand to welcome the delivery at the CFL Storage and Maintenance Centre in Luxembourg-Bonnevoie.
This new rail equipment, which is to be delivered between 2023 and 2025, will enable the CFL to increase the number of seats by 46% by 2025-2026. Before obtaining final approval, it will now be subjected to several tests on the country's railway lines.
The first of these new CFL railcars is among the 34 ordered at the end of 2018 from the manufacturer Alstom for a total budget of around €400 million, a record investment in rolling stock for the CFL.
"I am delighted with the arrival in Luxembourg of this first "Coradia Stream High Capacity" railcar; it is a major step towards the commissioning of state-of-the-art rolling stock with exemplary comfort" stated Marc Wengler, General Manager of CFL. "Thanks to these new trains, our seating capacity will increase by 46% by 2026 for the benefit of our customers, particularly during peak hours."
Minister Bausch added "I warmly welcome the decision of the CFL to welcome new equipment over the next few years. Thus, CFL customers will be able to benefit from a gradual increase in seat capacity. To extend the offer to passengers and modernise the service to rail customers, it is not only necessary to continue modernisation work on the rail network, but also to invest in rolling stock."
European approval in several stages
Given that the CFL's "Coradia Stream High Capacity" will run on the Luxembourg rail network as well as in Belgium and France for the needs of cross-border connections, they will be approved in the three countries by the European Railway Agency (ERA). To obtain this approval, tests have already been carried out in Belgium and others are in progress until mid-February in France.
Led by the certification company Certifer/Belgorail - in close collaboration with CFL experts - the tests in Luxembourg will begin on 8 January 2023 and will continue through March 2023 on various railway lines in the country. They will make it possible to ensure that new rolling stock meets all safety and operating requirements, taking into account in particular cross-border interoperability. During each test campaign, the first four series of tests will take place at night on an electrically isolated line, while the last will be carried out during the day, in a normal traffic situation.
This new fleet of double-decker trains will gradually enter service from the start of 2024 and will be fully deployed in 2025. It will play a major role in CFL's strategy, which aims to become their customers' first choice for mobility, the number of train passengers has already increased considerably by 85% between 2003 and 2019.
The new railcars will be of two types: Series 2400 (82m; 334 seats) and Series 2450 (160m; 692 seats), both offering some 1st class seats and also reduced mobily seats, including compartments for wheelchairs and bicycles; all railcars will offer on-board wifi and GSM repeaters, as well as 230 volt sockets and USB ports.