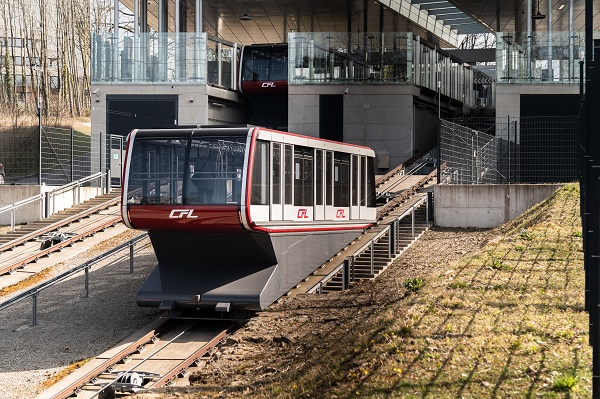 Credit: CFL
On Friday 9 December 2022, Luxembourg's railway company, the CFL, confirmed that the CFL Pfaffenthal-Kirchberg funicular had passed the milestone of 7.5 million passengers transported since its commissioning five years ago.
The funicular was commissioned on 10 December 2017 as part of four major public mobility inaugurations in Luxembourg, along with the Pfaffenthal-Kirchberg rail stop, the new Howald station and the first tram line. Five years later, the funicular counts about 7,000 passengers per day on weekdays and has attracted a total of 7.5 million passengers since it was put into service.
For the month of November 2022 alone, 161,414 passengers used one of the funicular's four cabins (spread over two independent systems). These cabins had also been designed to accommodate people with reduced mobility as well as passengers boarding with a pram or a bicycle.
Operated by a team of fourteen CFL employees, the funicular is accessible from 04:45 to 01:00 every day. Its 200-metre route is completed in 63 seconds on a slope at 19.7%. It has a maximum capacity of 7,200 people per hour, thus making it possible to transport 1,200 people in ten minutes with 168 passengers per cabin - the equivalent of two trains with 600 passengers.