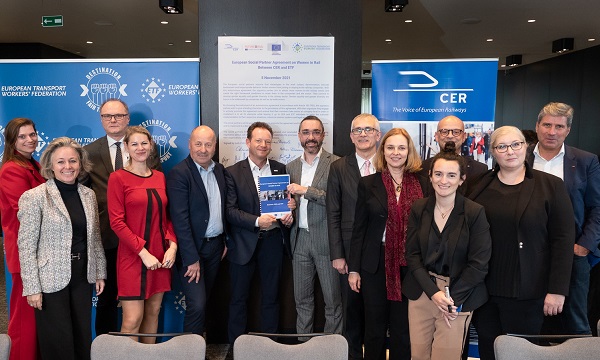 Credit: CFL Group
The Community of European Railway and Infrastructure Companies (CER) and the European Transport Workers' Federation (ETF) recently signed the "Women in Rail" agreement, which aims to promote the employment of women in the railway industry.
As chief negotiator, Yves Baden, Director of Human Resources at Luxembourg's CFL Group, co-signed this agreement at a ceremony held last Friday in Brussels.
The result of a collaboration between the CER and the ETF, the Women in Rail agreement aims to formalise their joint efforts to attract more women to the railway sector.
Yves Baden commented: "We are convinced that diversity is an asset [...] for the CFL Group and the challenges that we will have to meet in the future".
Greater protection as well as the guarantee of equal treatment in the workplace, particularly through measures agreed within the framework of general gender equality policies, are the main objectives of this agreement.
To attract more women to join the CFL Group, which is the second largest employer in Luxembourg, the group is constantly investing in its career opportunities. To increase the attractiveness of railway professions for women interested in taking up a new professional challenge, the group is launching its dedicated Women@CFL programme. In connection with the Women in Rail agreement, this notably provides for the implementation of a gender diversity policy, the development of work organisation models and tools for managing work-life balance, appropriate infrastructure throughout the company, the use of branding campaigns aimed particularly at women, management's awareness of the subject, as well as the continuation of anti-harassment efforts and equal opportunities throughout their career.