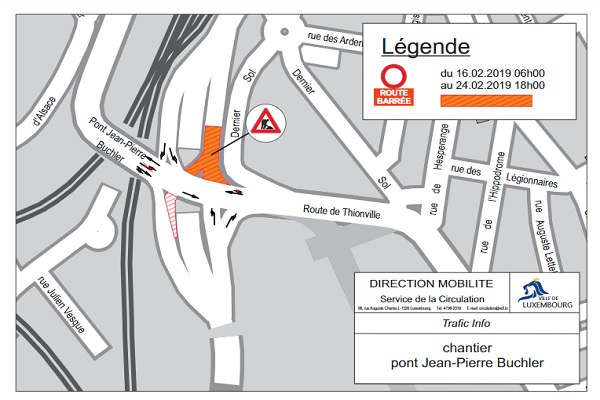 Credit: VdL
A new phase is starting on the Pont Buchler redevelopment project: the installation of a multitubular from 16-24 February 2019.
As part of the redevelopment of the bridge, the laying of a multitubular will have to be carried out later this week at the level of the access ramp leading from Route de Thionville to the Rocade de Bonnevoie and the city centre.
This work will involve traffic changes, particularly the closing of the access ramp in question from Saturday 16 February at 06:00 hours to Sunday 24 February at 18:00. Appropriate signage and diversion routes will be put in place during these times.
Works began earlier this year on the complete refurbishment of the Pont Buchler linking Luxembourg-Gare with Bonnevoie to widen it to cater for tram traffic. The widening of the bridge, which forms part of plans to extend the tram in Luxembourg City, will last 2 years and is fully financed by the State.