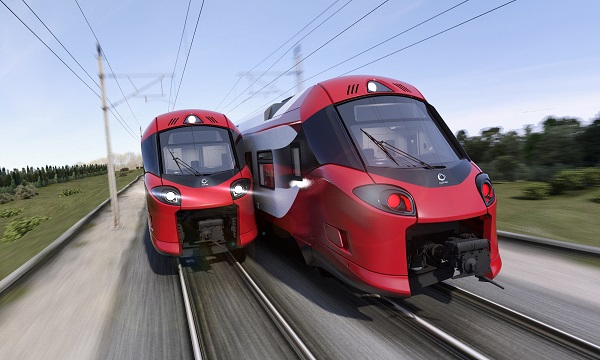 Alstom trains for CFL; Credit: Copyright Alstom Design & Styling
On Tuesday 18 December 2018, Luxembourg's Railways (CFL) has signed a contract to acquire future rolling stock; the French manufacturer Alstom has won the contract, for the delivery of 34 Coradia high-volume regional two-tier trains, for a total amount of more than €350 million.
The rolling stock proposed by Alstom best corresponded to the technical and quality criteria of the CFL, which are included in the specifications of the call for tenders published at European level. The new fleet will include trains of 80 - 160 metres long to be delivered successively from December 2021 to December 2024.
With these new railcars, the CFL will replace the 2000 series railcars, called "Z2" which have been in service since the early 90s, by modern rolling stock.
Passengers will enjoy increased comfort during their trips as well as with latest generation equipment. At the same time, the acquisition of new trains will bring a gradual increase in the capacity of the CFL rolling stock fleet. The expansion of capacity was necessary in view of the extraordinary growth in the number of passengers on CFL trains, having increased by more than 70% over the last 15 years.
Thus, the CFL fleet, currently comprising nearly 27,200 seats, will reach a total of more than 39,100 seats until 2024. By train of 160 metres, 692 seats will be available and 334 seats per train of 80 metres. This expansion will, in the medium term, cope with annual growth in passenger numbers of 3 to 5% and will increase the supply at the time of commissioning of major infrastructure projects planned in the future, such as the new Luxembourg - Bettembourg line and the modernisation of the Bettembourg station.
The new CFL trains are part of Alstom's range of Coradia modular trains, currently in service in 9 European countries as well as in Canada. The trains, which can reach a maximum speed of 160 km/h, will run on the national network as well as in Belgium and France. All trains will be equipped with features including WiFi and security cameras.