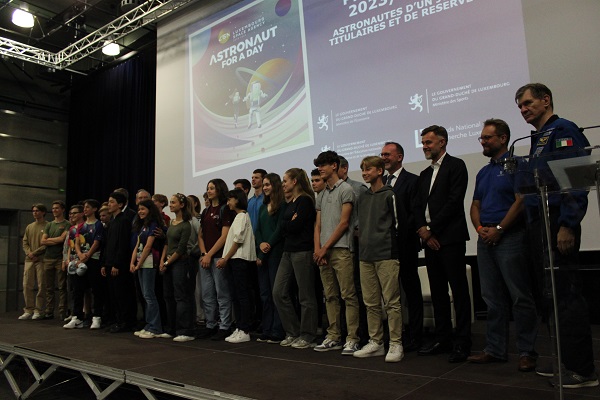 Group photo of "Astronaut for a Day" finalists; Credit: Otilia Dragan/Chronicle.lu
On the afternoon of Saturday 1 July 2023, the Luxembourg Space Agency (LSA) announced the selection of its "2023 Astronaut for a Day" programme and presented its 30 finalists as well as five "reserve astronauts" during the second day of this year's Asteroid Day celebrations.
The competition was open to young people between thirteen and eighteen who attend school in Luxembourg. Among 221 candidates, 69 went on to the next stage, where they underwent more in-depth interviews. The different stages of the competition were inspired by the selection process for professional astronauts practised by space agencies throughout the world. It consisted, among other things, of tests of logic and physical abilities which have been taking place since March 2023.
The finalists of the competition selected to be part of the "Astronaut for a Day" class will become "space ambassadors" in their school community. They will also experience a weightless flight from Luxembourg on Thursday 28 September 2023.
Luxembourg's Minister of the Economy, Franz Fayot, the Minister for Higher Education and Research, Claude Meisch, and the Minister of Sport, Georges Engel, were present on this occasion. The ministers had a short interview to mimic the ones the finalists underwent. Minister Meisch stressed the importance of the newly selected future "space ambassadors" to "convince" their peers and awaken their interest in subjects directly related to space science. Minister Fayot recalled the importance of new technologies to lead to finding solutions to the current humanitarian crises the world is facing. Minister Engel noted the endless possibilities of space and its potential of inspiring young people.
This was followed by a speech by Dorin Prunariu, a Romanian astronaut who noted he was "impressed" by the contest and commented on the great changes having happened in the past ten to 20 years, he stressed there are "new ambitions in Europe to become autonomous in space". Finally, he said "weightlessness is the first step" and he encouraged the students who did not win this time to try again.
Following a countdown, the finalists' names were announced and they were called on stage to be personally congratulated. They also won specially designed hoodies on the occasion.
The "reserve astronauts" were: Victor Emringer Alvaro (Athénée de Luxembourg); Kinji Yoshida (Lycée Technique du Centre); Raphaël Harnois (Vauban, Ecole et Lycée Français de Luxembourg); Imogen Legge (Vauban, Ecole et Lycée Français de Luxembourg); Hortense Le Drezen (Schola Europaea Luxembourg I - Kirchberg). The 30 finalists were: Elodie Jacques (Lycée Ermesinde Mersch); Ben Lies (Atert-Lycée Redange); Maximilian Frin (Atert-Lycée Redange); Mats Jung (Lycée classique de Diekirch); Jeanne de Luppé (Lycée Vauban); Mohammad Taher Dalili (Lycée Technique du Centre - LTC); Félix Oberlé (École, Collège et Lycée VAUBAN de Luxembourg); Amandine Boisson (Lycée Vauban Luxembourg); Ernest Beaubron (Vauban, Ecole et Lycée Français de Luxembourg); Adrien Neu (Lycée Aline Mayrisch); Misael Ramos (Lycée Josy Barthel Mamer); Louis Bock (Lycée Michel Rodange); Samuel Thommes (Lycée Josy Barthel - classique Mamer); Arthur Ladonet (Vauban, Ecole et Lycée Français de Luxembourg); Massimo Barbolini (Lenster Lycee International School – LLIS); Mathilde Lacour (Lycée Vauban); Grégoire Gourdain (LLIS); Léonore Gibert (Ecole Privée Notre-Dame Sainte-Sophie); Daniel Jenkin (Athénée de Luxembourg); Amélie Wohlgenannt (Deutsch-Luxemburgisches Schengen-Lyzeum Perl); Alexandre Guittet (Lycée Vauban); Alice Ley (Lycée de Garçons de Luxembourg - LGL); Lily-Mai Diebold (Vauban, Ecole et Lycée Français de Luxembourg); Taha Fendo (Centre for the Development of Sight-related Skills); Aikaterini Totta (Vauban, Lycée Français du Luxembourg); Charel Schiltz (Lycée classique d'Echternach); Niels Teyssier (Lycée Aline Mayrisch); Alexandre Krombach (Athénée de Luxembourg); Pierre Hansen (Maacher Lycée Grevenmacher - MLG); Carolina Brauer de Morais (Ecole Europeenne II, Mamer).
Held on 30 June each year, Asteroid Day marks the date of Earth's largest asteroid impact in recorded history, the so-called Siberia Tunguska event.
Astrophysicist and famed musician Dr Brian May of the rock group Queen co-founded Asteroid Day with Apollo 9 astronaut Rusty Schweickart, filmmaker Grig Richters and B612 President Danica Remy, aiming to educate the public about the importance of asteroids in our history and the role they play in the solar system.
Over the past eight years, Asteroid Day has evolved to include the participation of space organisations such as ESA, NASA, JAXA, Roscosmos and ISRO, but also scientists, astronomers, educators and international media. Asteroid Day is a programme of the Luxembourg-based non-profit organisation Asteroid Foundation.
The Asteroid Day Festival on 1 July aimed to promote space and asteroid science among children, students and adults alike. It brought together astronauts, engineers, scientists and entrepreneurs and offered various panels on asteroid missions, science, technologies, finance in space and data sonification including related workshops and games for children. This event took place at the Tramsschapp cultural centre, between 10:00 and 18:00, in Luxembourg-Limpertsberg. It was also live streamed on Asteroid Day's digital platforms.
Markus Payer, Chair of the Asteroid Foundation, commented on the occasion: "Asteroid Day brings the global space community together, to educate and learn about space, the history of our solar system, the future of space exploration, space business, its impact on Earth and planetary defense. With our two-days programme and our school visits with astronauts, we want to gather experts and people who are passionate about space and attract the public and young people. The space sector plays an increasingly important role in the development of our economy and society. Luxembourg has developed an important space cluster over the decades and is at the forefront of innovation, technological quantum leaps and investment in space. Our Lecture and Festival deal with these topics - but also cover the fun side for the visitors who come to Tramsschapp."