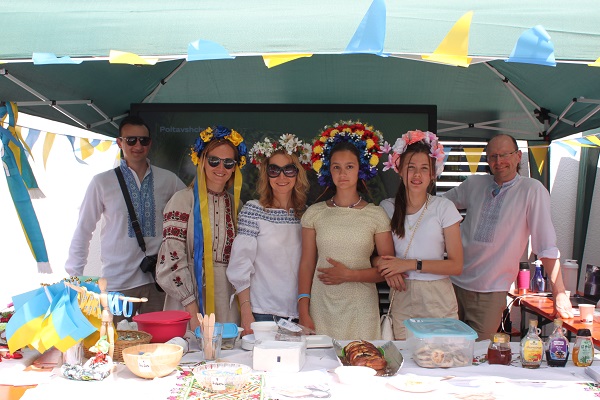 Ukrainian stall at the 2023 edition of St George's International School's Summer Fayre; Credit: Otilia Dragan/Chronicle.lu
On Saturday 10 June 2023, St George's International School in Luxembourg-Hamm held its traditional, annual Summer Fayre from 11:00 to 15:00, with the sun shining brightly throughout the day.
On this hot and sunny afternoon, the school's multicultural community was busy and energised engaging in various activities and enjoying the rich offer of foods, drinks and entertainment for the children.
International stalls offered a bounty of traditional dishes, but also unique items and merchandise from the countries they represented. There was a stall for the Nordic Countries, offering traditional foods. The stall for China offered Chinese calligraphy, panda bear headbands among other items and showcased a traditional instrument – the guzheng – which one could try to play. The Algerian stall offered delicious mint tea in traditional glasses decorated in gilded geometric lattice. They also offered Northern African appetisers (golden wraps with chicken, beef and potato) and they showed Chronicle.lu so-called desert roses: beautiful rock formations that develop in the desert due to the extreme heat during the day and the freezing nightly temperatures. The South African stall nearby had sold out its Boereworks sausages.
The facepainting tent was perpetually busy, and the children also greatly enjoyed the bouncy castle.

The very popular Spanish stall boasted many traditional foods such as tapas, gazpacho, sangria, empanadas and pinco de tortilla (a large, cake-like savoury omelette) as well as paella. The Pakistan stall nearby also offered special, mainly savoury and all-vegetarian foods: honey mango cakes, chana chaat (a chickpea appetiser), but also dahli baray (a popular dish of fried lentil balls dipped in sweet yoghurt and served with sweet-sour tamarind sauce). They had iced mango lassi on offer and roh afza, the so-called "soul-refresher" concentrated rose-coloured squash of fruit and flowers, tasting mainly of rose. Additionally, they offered a henna workshop for those who wanted to have their hands painted in beautiful reddish-brown floral designs.
At the Portuguese stall, there were traditional cakes on offer - the well-known pastel de nata and a sweet chocolate "salami" cake served cut into thick slices - they also had Portuguese coffee, chocolate cake, mugs decorated in traditional designs, and small temporary tattoos for children. The Italy stall boasted wines and pasta dishes, but also apple pie (torta mele) and mini parmigiana (stuffed baby aubergines).
The Ukrainian stall had a display of flower crowns (and small traditional dolls too). These crowns, they informed Chronicle.lu, are usually worn by girls on special days, but the bigger, more complex ones would be worn on wedding days. Each flower used to make up the crowns has a different meaning, with poppies symbolising protection from evil, marigolds - healing, roses for love and renewal of the life cycle, sunflowers for loyalty and optimism, chamomille stands for tenderness and love and viburnum represents beauty.

There were many more stands and activities, foods and drinks to sample - this event was a lovely summery celebration of the diversity that St George's International School represents.