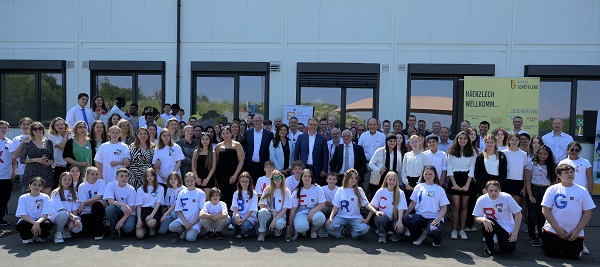 EIDE school in Schifflange inauguration of Op de Fléierchen building; Credit: MENEJ
Luxembourg's Ministry of National Education, Children and Youth has confirmed that, on Thursday 8 June 2023, the new "Op de Fléierchen" was inaugurated in Schifflange: since January 2023, this facility has welcomed a total of 85 Ukrainian pupils, divided into four reception classes managed by the International School of Differdange and Esch-sur-Alzette (EIDE).
Luxembourg's Minister of National Education, Childhood and Youth, Claude Meisch, the EIDE director, Gérard Zens, and the mayor of the municipality of Schifflange, Paul Weimerskirch, officially inaugurated the building which was made available by the municipality of Schifflange.
Minister Meisch thanked the municipal authorities of Schifflange and the management and staff of the EIDE for having put in place, within a short period of time, a schooling offer for the benefit of Ukrainian pupils. More than two thirds of the 84 students will join an EIDE secondary education class in September 2023.
The Minister was also delighted that the structure will continue to function, in the years to come, as an annex of the EIDE. From the start of the 2023/24 academic year, the "Op de Fléierchen" building will welcome newcomer students who only master one or even none of the languages taught at EIDE.
Thanks to the collaboration between the municipality of Schifflange and the state, the offer of public European classes has thus been extended to the southern region. The Ministry will pursue its ambition to further extend this offer. Other sites in Schifflange and Dudelange are currently being studied.