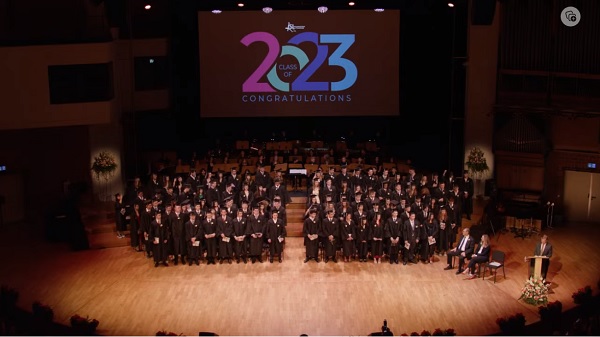 ISL Graduation Class of 2023;
On Saturday 27 May 2023, the International School of Luxembourg (ISL) held its Graduation Ceremony for its Class of 2023 at the nearby Conservatoire de la Ville de Luxembourg.
A total of 99 students graduated this year, with the Concert and Symphonic Bands of ISL, directed by Shauli Einav, performing, commencing with the uplifting Fanfare and Processional (Pomp and Circumstance) by Edward Elgar as the students - all wearing identical black gowns and mortar boards - entered from different directions to take their seats on stage, in front of the orchestra.
The musical programme, performed at different intervals during the hour-long ceremony, included a range of musical styles, including "Studio Ghibli Medley" by Joe Hisaishi (performed by Maria Anderson, Vera Mazourine on the clarinet and oboe), "Don't Look Back in Anger" by Oasis (performed by Marcus Dackner, Nicholas Kellam and Sebastian Rengifo Rodriguez, with Maya Fish and Victoria Mulli on vocals) and "Never Gonna Give You Up" by Mike Stock, Matthew Aitken and Peter Waterman (performed by the Concert and Symphonic Bands of ISL).
The Welcome address was given by Dr David J. Condon, ISL Director, who reflected on the transition of the young people (graduating today) into all-round good people who would go on to do good work in this world. He also thanked the academic staff and members of the board whose involvement has been invaluable to supporting the school educate its students. He made a few personal observations, including asking the graduates to imagine themselves ten years from now and asking them to consider what stories they would like to tell, stories of opportunities seized and new experiences. He also mentioned some obscure courses that graduates may wish to follow, such as gossip and garbage, giving insightful perspectives and inviting the students to explore possibilities and perspectives, allowing new understandings.
The Graduating Class had made a video presentation (coordinated by the Lower School) which was then presented on a large screen, showing all graduates alphabetically using both young (baby/toddler) and recent photographs, chosen by the students themselves, as well as in graduation robes. This was followed by a moving montage of "The Class of 2036" with "The Class of 2023", who would be graduating themselves thirteen years from now.
Guest Speaker, Luxembourg's Minister of Education, Children and Youth and the Minister for Higher Education and Research, Claude Meisch, stated that the ceremony was a celebration of their academic achievement; he mentioned the roles their parents played in their education as well as the teachers of the school for their guidance and mentorship. He stated that they had the privilege of mixing with students of various backgrounds and experienced a truly multicultural and multilingual environment. The world is faced with a multitude of challenges; their role of change-makers becomes very important; making a positive impact begins by realising that their voice matters. He stressed community and collaboration and encouraged them to embrace positive change, urging them not to be afraid to explore the unknown, with their ISL education a firm foundation.
Two further speakers spoke, first Jai Spencer (representing the faculty) and Frederik Obe (representing the students). Using his love of science and maths, Jai presented a variety of statistics and numbers in respect of his fellow graduates and the time they had spent at school and sporting events, participation in the Duke of Edinburgh's Award, Science Olympiads, etc. Frederik reflected on the Class of 2023's final moments all together and recollected memories from their time in Middle School as well as sporting memories, including how different colleagues contributed to the class.
Finally, what all the students were looking forward to, the presentation of Diplomas and Awards by Maaret Davey, Chair of the Board of Governors and Dr David J. Condon, ISL Director
The Closing Remarks were delivered by Iain Fish, Upper School Principal, who also compered the event. He reflected "the IB is a monster and not always a cuddly one" and addressed considerable effort and resilience, as well as embracing, delighting and welcoming the unpredictable as well as broadening horizons and offering a zest for life as they explore unchartered territory. He finished off by reflecting on the achievements of the Class of 2023 and thanking all those involved in the graduation ceremony.
The two-and-a-quarter-hours ceremony concluded with the traditional tossing of their hats and was followed by a reception in the Lower School Auditorium.