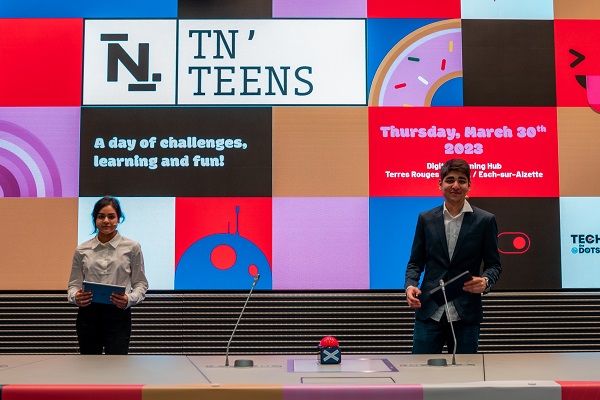 Credit: TechSense by The Dots
On Thursday 30 March 2023, 220 secondary school students took part in the second edition of TN'Teens, organised by TechSense by The Dots, at Digital Learning Hub's Les Terres Rouges building in Esch-Belval.
The event, which aimed to promote the new technologies sector to students, brought together industrial actors and emerging digital talents from schools across Luxembourg and the Greater Region.
The day started with a series of workshops covering five key tech concepts: blockchain, coding, design thinking, cybersecurity and the metaverse. The afternoon was dedicated to speeches and a quiz. Avanti and Leo Sharma, Pre-Teen Technology Specialist and co-founder and Vice-President of Workshop4Me respectively, hosted this conference session. They opened the second edition of TN'Teens to a full house and introduced Kamel Amroune, CEO of The Dots, for his opening words.
Luxembourg's Minister of Education, Children and Youth, Claude Meisch, then shared his views on digitalisation and how it is shaking up the way we live and work: "We can't tell how our world will work in a few decades, but it will be different. And it is our responsibility to prepare you for tomorrow's digital world".
Other speakers included Esch-sur-Alzette councillor Christian Weis and ethical hacker SaxX.
After the speeches, students tested their knowledge during the "Big Quiz" and answered questions about the five aforementioned tech concepts, as well as general culture. Each of the five finalists was mentored by a figure from the Luxembourg technology community and won prizes offered by the event sponsors and partners. The overall winner was Serge Locatelli, who was mentored by Roberta Ribeiro Oertel of the National Commission for Data Protection.
Speaking to media partner Chronicle.lu about the inspiration for this event, The Dots CEO Kamel Amroune (pictured below) noted that there had been "already a discussion about the talent shortage in the tech industry" when he started his career in Luxembourg more than fifteen years ago. "If we had made an effort to inspire a love for technology and encourage vocations in the IT sector back then, those teenagers would now be developers, cybersecurity specialists or other tech professionals aged between 28 and 33," he said.
He described the first edition of TN'Teens in 2022 as "a success" and noted that twice as many young people took part in this year's edition. He confirmed that the feedback for the second edition has been "extraordinary", adding that all the workshops were full. About a third of students (approximately 70 participants) came from outside Luxembourg (Greater Region). "We could have had many more, but the logistics would have been more demanding and the venue couldn't accommodate them," said Mr Amroune. "While we could have included more French or Belgian schools, our primary goal is to support Luxembourgish students."
He explained that the organisers had selected this edition's tech concepts (blockchain, coding, design thinking, cybersecurity and the metaverse) in collaboration with their partners, particularly the Digital Learning Hub (part of Luxembourg's Ministry of Education, Children and Youth) which already focuses on the areas of coding and cybersecurity in its training programmes. Concerning the significance of the metaverse in particular, he said: "We are just at the beginning. Together with Matthieu Brachetti's team at Virtual Rangers, we created the first Luxembourgish metaverse, which we prefer to call the 'megaverse'. These young people are already immersed in virtual reality, especially in gaming. It's a trending topic to monitor and explore, considering both its advantages and the challenges it poses for new generations. We connect the dots much better in the physical world since the metaverse is just an additional means of entertainment and potential business."
"Engaging with these young people gives us tremendous energy," Mr Amroune concluded. He confirmed that the organisers are "already looking forward" to a third edition, which is set to take place ahead of the Easter holidays next year, on Thursday 28 March 2024.