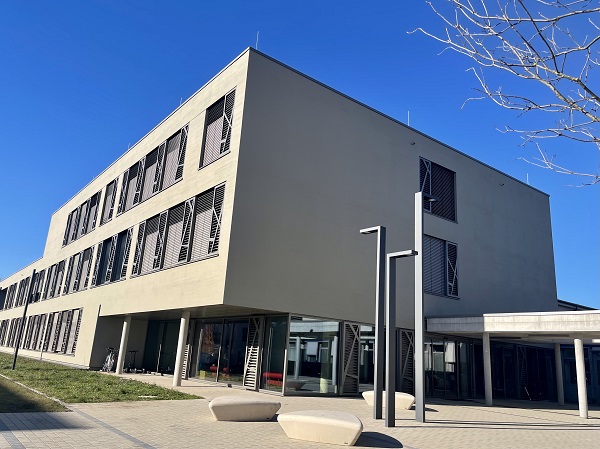 Credit: EIMAB
Chronicle.lu recently had the opportunity to speak with Julie-Suzanne Bausch, Director of École internationale à Mersch Anne Beffort (EIMAB), about the European-accredited school's response to the influx of Ukrainian refugee schoolchildren over the past year, as well as the recent EIMAB Open House and registrations for the new school year.
EIMAB, which opened its doors at the start of the 2021 academic year, officially became the Grand Duchy's fifth European public school in July 2022. It consists of a primary, secondary and boarding school spread across two sites in Mersch: the primary school is located on the EIMAB II site (46 Rue de la Gare), whilst the secondary and boarding schools are located on the EIMAB I site (Square Princesse Marie-Astrid). According to Julie-Suzanne Bausch, the school has its "complete own, partly brand new facilities", except for a swimming pool that it shares with the Municipality of Mersch.
Teaching staff come from various backgrounds, as Julie-Suzanne Bausch explained: "Our teachers come from the national system, the European schools and accredited European schools, and from private schools in the Grand Duchy, Europe and the world." Pupils learn two languages in addition to their main language, with a choice from French, English, German, Portuguese, Luxembourgish and Latin.
When Luxembourg began taking in refugees fleeing Ukraine amid Russia's full-scale invasion last year, EIMAB was one of the main European public schools to offer an education to newly arrived Ukrainian pupils. Whilst figures continue to fluctuate, according to Julie-Suzanne Bausch, there are currently more than 70 Ukrainian pupils enrolled at EIMAB (in April 2022, this figure stood at about 130). The school offers special reception classes for Ukrainian pupils, taught in English (Language 1) and, if possible, in French or German (Language 2) and Luxembourgish.
Overall, 46 primary pupils are currently enrolled at EIMAB II, including fifteen in the French-speaking section, fourteen in the English-speaking section and seventeen Ukrainian pupils in the dedicated reception classes.
EIMAB I caters to 214 secondary pupils, including 35 S1 pupils in the French-speaking section, 26 in the German-speaking section and eleven in the English-speaking section; 29 S2 pupils in the French-speaking section, 22 in the German-speaking section and fifteen in the English-speaking section; 24 pupils in the English-speaking reception classes, nine in the French-speaking reception classes and 43 Ukrainian pupils in special reception classes; an additional fourteen Ukrainian secondary pupils attend classes at partner school Lycée Classique de Diekirch (LCD).
EIMAB also offers the "Voie de Préparation internationale" (VPi) as part of its general secondary education offer, in French (22 pupils) and German (20 pupils), as well as adaptation classes (5ADi) which, according to Julie-Suzanne Bausch, "give access, depending on the assessment, to professional life, professional training or ESG [general secondary education]"; there are currently six pupils enrolled in these classes at EIMAB.
The EIMAB boarding school accommodates 53 pupils.
Commenting on how the school has coped with a surge in numbers related to the arrival of Ukrainian schoolchildren in Luxembourg, Julie-Suzanne Bausch explained: "Our school did not open until September 2021, so when the Ukrainian pupils and students arrived in April 2022, we were still in the take-off phase. Already before September 2021, my teams were faced with a fourfold heavy workload: teaching the classes of the LCD to which the two buildings in Mersch were attached until August 2021, working on the concept and implementation of the new European-accredited school that [would] be EIMAB, and dealing with the effects of the pandemic on our school – and all this in the middle of two building sites! It was therefore very difficult for my already hard-pressed teams – but we managed to hold on and welcome the children and young people fleeing the war on the five sites of 'Centre 2 EIMAB' thanks to the endless and unfailing commitment of our administrative, technical, psycho-social and teaching teams." The EIMAB Director added: "Fortunately, the [Luxembourg] Government issued an emergency regulation facilitating the recruitment of additional teaching staff and SECAM provided mediators."
Registrations for the upcoming academic year at EIMAB opened on 27 February and will close on 18 March 2023. Capacity is approximately 130 pupils each year. Further information is available on the EIMAB website: https://www.eimab.lu/.
The school also held an Open House recently, on Saturday 25 February 2023, which Julie-Suzanne Bausch described as a "big success". She added: "I want to warmly thank my teams who out[did] themselves!"