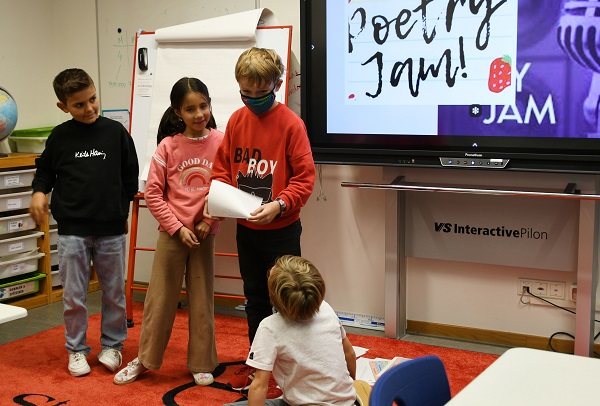 St George's International School Poetry Jam;
Renowned children's author and poet Michael Rosen, whose work includes We're Going on a Bear Hunt and Sad Day, was a special guest at St George's International School on Thursday 7 October 2021 to celebrate National Poetry Day.
Mr Rosen spoke with Primary students via Zoom at an assembly dedicated to poetry performance. The students enthusiastically joined Mr Rosen in reciting some of his best-loved poems and stories, including Don't and Chocolate Cake. He also shared tips and tricks that the students could use when writing their own poetry and left time at the end to answer their questions.
St George's Primary English coordinator Lauren Hughes said that celebrating National Poetry Day was a way of encouraging everyone to share and enjoy the world of poetry, and having a much-loved author and poet as a special guest added extra excitement to the day. "As a form of expression, poetry captures our excitement, our imaginations and our wonder," Ms Hughes said. "The variety, flexibility and potential inherent in learning about poetry and utilising poetry means it has relevance across the school and the curriculum. The teaching of poetry covers many of the milestones across the curriculum, from nursery rhymes that cover mathematics through counting, to the examination of war poems further up the school. The potential of poetry to offer a window, an access point, into serious societal issues makes it vital when approaching certain topics in a considered and empathetic way. Older students, for example, have been examining perspectives on refugees through the unique form of reverse poetry."
Fellow Primary English coordinator Clare Jennings said Mr Rosen's guest appearance had been the talk of the school since it was announced last week. His poems, many of which are about his life between the ages of 2 and 12, had been the subject of classes prior to National Poetry Day allowing the students to actively participate in the assembly. "Poetry has a wide range of benefits both educationally and developmentally," Ms Jennings said. "We start learning poetry from a young age as we are taught nursery rhymes, which help teach patterns and develop early language skills. As children progress through school those skills evolve as children play with language and sentence structure. Engaging with poetry opens a world of possibilities in terms of how and why we communicate and encourages experimentation and expression in forms of written and spoken language," she said.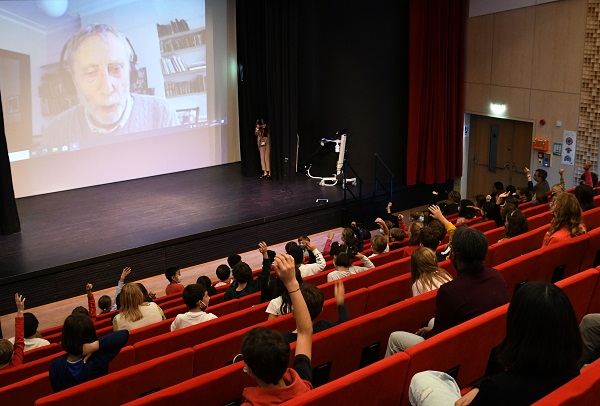 One Reception class, with students aged 4-5 years, wrote and performed their own poem based on Mr Rosen's much-loved We're Going on a Bear Hunt. Their teacher Johanna Kekki used it as an opportunity to practise handwriting, with each student writing a line for a poster to be placed on the classroom wall.
Primary students were asked to bring their favourite poem in their pocket on National Poetry Day to share with students and staff. Parents and teachers recorded videos of themselves reciting poems from their home countries, and students in all year groups created a performance poem together. They also went on a poetry hunt to track down QR codes across the school which provided links to famous poems and some classes even held poetry jams.
St George's International School is an inclusive, vibrant international community of 875 students aged from 3 years to 18+ years, representing over 60 different nationalities. This rich diversity provides a unique and exciting learning environment for every child. To prepare our students to be outstanding 21st century global citizens, it nurtures strong values in its students, based on mutual understanding and respect. Find out more at www.st-georges.lu