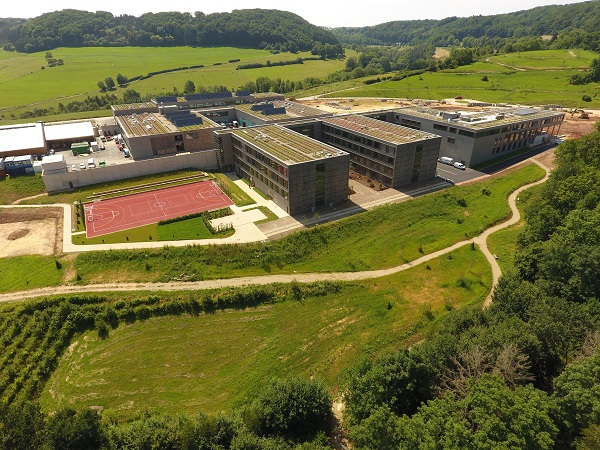 Aerial view of the new site in Gilsdorf; Credit: LTA
Luxembourg's Ministry of Education, Children and Youth has announced that the Agricultural Technical School (Lycée Technique Agricole - LTA) is moving to Gilsdorf, a small town in the municipality of Bettendorf in north-eastern Luxembourg, at the start of the new school year.
Founded in 1883 in Ettelbruck, the LTA presents itself today as an innovative school, which prepares its students for jobs in nature.
The educational offer of the LTA encompasses both the lower (orientation route) and upper classes (natural sciences section) of general secondary education, as well as professional training that is unique in Luxembourg in the field of agriculture (CCP-DAP-DT), horticulture (nurseryman-landscape architect, florist, produce grower and floriculture at DAP and CCP level), the natural environment (DAP and DT) and mechatronics (agricultural and civil mechatronics engineer at DAP and DT level and commercial vehicle mechatronics engineer at DAP level). All of these courses offer outlets for a variety of highly qualified professions.
In Gilsdorf, the school will benefit from modern infrastructure that better meets the requirements of the training courses offered, including:
29 classrooms;
27 special rooms (IT, biology, chemistry, physics, agriculture, horticulture, natural and forest environment, artistic education);
Eighteen workshops and laboratories (adjustment, mechanics, electrical engineering, wood, metal constructions, horticultural, forestry and agricultural machines, repair workshop, etc.);
a hall for agricultural machinery;
2,400 m2 of greenhouses;
a multifunctional gym;
a restaurant and cafeteria;
a library;
a psycho-social and school support service (SePAS).
The LTA's some 600 students can thus be grouped together on a single site. Only certain practical work carried out in greenhouses or fields will continue to be carried out in Ettelbruck or Bettendorf. The new site will eventually be able to accommodate up to 800 students.
The technical design of the building is characterised by high-performance thermal insulation, optimal use of natural lighting, natural ventilation for the majority of the premises and the production of heat by a heating plant equipped with a boiler for green waste and wood chips in order to maximise the use of renewable energies.
From the start of the 2021-22 school year, two new courses will prepare students for the certificate of professional capacity as an agricultural worker and for the diploma of technician in agricultural and civil mechatronics engineering.
The new address of the LTA, from 30 August 2021, is: 1 Kréiwénkel, L-9374 Gilsdorf.
The total cost of this construction project amounted to €100,000,000 (including all taxes).