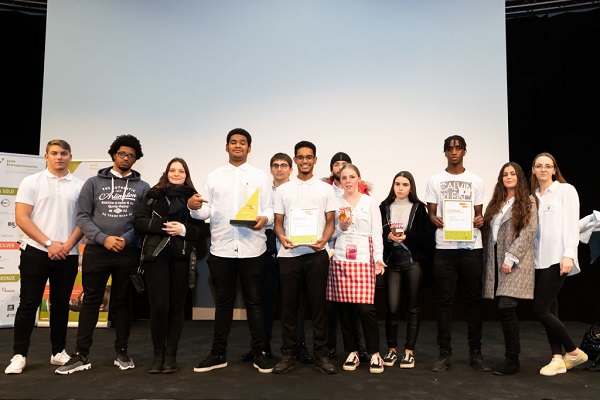 Credit: JEL
On Tuesday, more than 400 students participated in the 12th "Luxembourg Training Company Fair", organised by the association Jonk Entrepreneuren Luxembourg (JEL); a total of 25 companies from thirteen secondary schools gathered in the Geesseknäppchen Forum in Luxembourg-Merl.
The concept of an "Entreprise d'Entraînement" ("training company") was introduced into the Luxembourg school curriculum as a compulsory course in 2006. Training companies are fictitious companies integrated in a global network constituting a real parallel market allowing them to undertake commercial actions between them by simulating the real market.
The objective is to put into practice the theoretical knowledge acquired in other courses and to gain an overview of the functioning of a business. Interactions between the different departments and with external bodies are thus promoted. It is therefore through commercial practice that training companies aim to best prepare young people for the world of work.
The Luxembourg Training Company Fair is organised once a year and allows training companies to meet and create business alliances. Every year, JEL rewards the best training company in the following four categories: "Best stand and business practice", "Best presentation", "Best dossier" and "Best training company 2019". For this edition, two optional prizes were also awarded, the "Innovation Prize" and the "Sustainable Development Prize".
The jury, made up of six members (three secondary school teachers and three representatives from the private sector) evaluated the training companies in order to choose the winners. This year's jury members were: Jean Toussaint (BCEE); Judith Reicherzer (Lycée Aline Mayrisch) Julie Riss (Deloitte Luxembourg); Fabienne Kieffer (Lycée Michel Lucius); Jean-Paul Scheuren (Chambre immobilière; Groupe Claude Konrath); Roger Braun (Lycée Technique Agricole).
Winners
The Best Training Company was "Grénge Léiw" from Lycée technique de Bonnevoie. The team also won the award for best presentation. The team consisted of the following students: Yannick Bernard, Erine Boulanger, Victoria Butowski, André Braga, Jordan Da Cruz Fortes, Dani Da Eira, Juliana Dos Santos, Ruben Gomes Duarte, Indrit Jashari, Valeria Luisi, Tony Madeira Almeida, Lindsay Martin, Jessica Marques Vinhas, Vanessa Medico, Andreia Sabrina Pereira Abreu, Rafaela Silva Escada and Yadel Terefe. The teachers on the project were Steve Denell and Tom Emeringer.
The Innovation Award went to "Mapa - Change your mobility, change our lives" from Lycée Technique du Centre. The team was composed of the following students: Bikié Mba Franky Arcange, Da Costa Guedes Francisco, Fenda Fati Fernanda, Ferreira Lucas Emanuel, Ferreira Neves Henrique, Oliveira Eduina Raul, Andic Nemanja, Antunes Rogado Tavares Tiago Jorge, Azmi Ayman Tarannum, Brilhante Camilis Linda Grayce, El Mahdi Tribak Wael, Fernandes Rocha Ana Magarida, Ferreira Da Almdeida Inês, Gomez Therese, Hoxha Arlind, Korac Amina, Makukha Valeriia, Margalha Nico Hugo Miguel, Nunes Dias Tania, Pereira Simões Sara Isabel, Ramos Graça Eduardo Rafael, Rastoder Elma, Rodrigues Antunes Ana Catarina and Silva Madaleno Cristiana Vanessa. The teachers were Marie-Anne Mazouin and Pascal Schaack.
The prize for Sustainable Development and for the Best Dossier was awarded to the "Tocalux" team from Lycée Technique du Centre. The team was made up of the following students: Da Silva Varela Nadine, Figueiredo Sousa Rodrigo Xavier, Gaspar Daniel, Kremer Mandy, Parage Lea, Reuter Jenny, Tani Laura, Da Cruz Delgado Larry Junior, Fortes Neves Ricardo Manuel, Silva Ribeiro Ivan Filipe, Soares Cardoso Ederlindo and Veiga Pereira Ronaldo. The teachers were Marianne Zeches and Sacha Pauquet.
The Best Stand and Business Practice prize went to "MultiCulti" from Lycée technique de Lallange. The team was composed of the following students: Dylan Tavares, Diogo Monteiro, Filipe Pereira, Alec Mendes, Alina Ibanescu, Nadina Cosovic, Elma Cikotic, Jelena Misic, Naomi Dewans and Elvina Adrovic. The teachers were Isabelle Cochard and Timmy Bartocci.
Luxembourg's Minister of Small and Medium-Sized Enterprises, Lex Delles, was also present on this occasion.