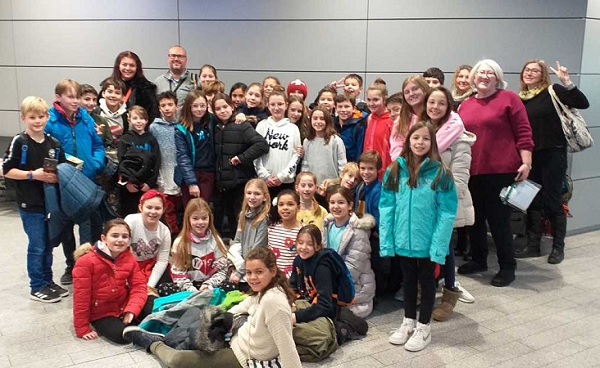 On 30 January 2019, a total of 37 children from St George's International School in Luxembourg sang at the O2 arena in London, as part of Young Voices choir, the largest children's choir in the world.
St George's Miss Roberts (APL) and Mrs Griffiths (Deputy Head) have run a weekly lunchtime club, learning 16 songs for the children to be ready for the concert. The 37 from St George's in Luxembourg, one of only two non-UK schools, sang along with 8,148 children on the night.
The choir sang with Tony Hadley, from Spandau Ballet, Beau Dermott, a 15 year-old Britain's Got Talent "golden buzzer" finalist - who herself was a member of the Young Voices choir 7 years ago - and Sharlene Hector, from Basement Jaxx. They also danced with the street dance group Urban Strides; Andy Instone, the founder of Urban Strides, will be visiting the school in May to run dance workshops.
For the past 20 years, Young Voices has staged the largest children's choir concerts in the world. Over 2 million children have taken part in a Young Voices concert and they believe passionately in inspiring the next generation to find their love for music. Each evening, between 5,000 - 8,000 children perform as a single choir to a sold-out audience of family and friends.
Their music is specially selected to create a diverse musical repertoire all with the intention to introduce children to the widest possible spectrum of music. By providing a diverse range of musical styles children will learn, enjoy and gain a fuller understanding of music and what it means to sing together. They also aspire to connect families through music and to share in the learning experience when children practice at home.
For some of the music, Young Voices provides a simple selection of dance moves that are learned and performed whilst singing the songs. Children and teachers particularly enjoy the combination of dancing and singing, adding a fun, electric atmosphere to the concert.
Nothing can prepare an audience for the sound of thousands of children singing together. With a full 7-piece live band made up of some of the UK's leading musicians, backing singers and the internationally acclaimed conductor David Lawrence – it makes for one of the most exciting and memorable musical experiences one can imagine.
2019 sees its largest concert tour to date with over 150,000 children taking part; for a full list of concert dates and venues, see the 2019 Season details online at www.youngvoices.co.uk