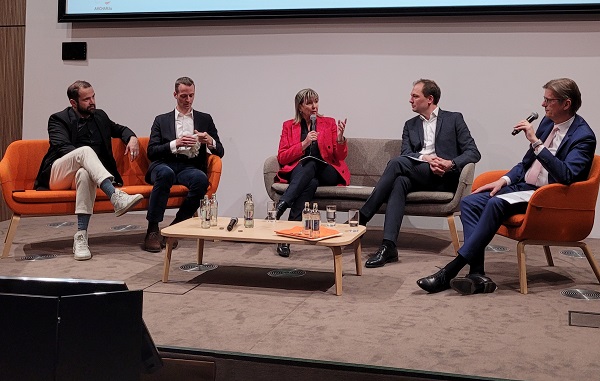 (L-R) Gabriel Boisante (LSAP); Serge Wilmes (CSV); Lydie Polfer (DP); François Benoy (Greens); Douwe Miedema, moderator; Credit: Jazmin Campbell/Chronicle.lu
On Tuesday 18 April 2023, the American Chamber of Commerce in Luxembourg (AMCHAM), together with the British Chamber of Commerce for Luxembourg (BCC) and Luxembourg Times, held an event at ING in Luxembourg-Gare dedicated to the upcoming elections.
Luxembourg will head to the polls twice this year, first on 11 June for the municipal (local) elections and then again on 8 October for the legislative (national) elections. Whilst only Luxembourg nationals can (and are obliged to) vote in the latter, this is the first year that all non-Luxembourgish residents over the age of eighteen are eligible to vote in the former, regardless of how long they have lived in the Grand Duchy. Previously, this had been restricted to foreigners having resided in the country for more than five years.
The event on Tuesday evening gathered more than 100 people to listen to and engage with four candidates running for mayor in Luxembourg City in this year's local elections: incumbent mayor Lydie Polfer (Democratic Party - DP); current chief alderman Serge Wilmes (Christian Social People's Party - CSV); councillor Gabriel Boisante (Luxembourg Socialist Worker's Party - LSAP); councillor François Benoy (Greens/Déi Gréng). Note that these are just a few of the top candidates of the main parties running in this year's elections in Luxembourg City.
As AMCHAM Chairman and CEO Paul Schonenberg emphasised in his introduction, the objectives of this event were twofold: to offer members of the international business community in Luxembourg an opportunity to hear from politicians about the current situation in the capital and their future plans, so they are better informed before heading to the polls this June, and to allow the audience to ask questions and express their own hopes and needs so that they may be taken into consideration in future decision-making.
The main topics on the agenda were foreign voter registration and its importance for democracy, as well as the issues of housing, mobility and security. Moderator Douwe Miedema (Luxembourg Times) began by asking the panellists if the latest registration figures for eligible non-Luxembourgers (almost 16%) in Luxembourg City were good enough. The panellists agreed that this number could and should be higher, not least from a representation perspective since 70% of the capital's population are non-Luxembourgish nationals. Mayor Polfer emphasised that in absolute numbers, the figure had in fact almost doubled from just under 6,500 registrations in 2017 (the year of the last local elections) to over 12,600 today (out of 81,000 eligible voters). One factor cited was that people do not stay long in Luxembourg City, often moving on to other municipalities or even countries - an issue, some agreed, that was in part linked to housing costs.
The panellists attempted to dispel some of the fears voiced by non-Luxembourgers concerning mandatory voting in Luxembourg, reassuring that this is not typically enforced and that registering to vote by post is always an option.
Concerning complaints of a lack of information to date about the various parties and candidates, the panellists recalled that the "real" election campaign only kicks off one month before the elections, so this will begin in May. Up until now, the focus was on getting non-Luxembourgish residents to register to vote, not on convincing them for whom they should vote. Most of the panellists seemed to agree that reaching out to eligible voters individually in their daily lives was an effective approach in convincing them to register, although some argued that more should be done at the Biergercenter when people first register as residents in Luxembourg City. Language was an issue, but one which the four represented parties (and others) said they had been addressing.
The topics of traffic and mobility, particularly soft mobility, generated some debate, as did security, with the issue of drug use in the Luxembourg-Gare area coming up. There was general agreement over the need for a local police force, although this would ultimately be a national decision, it seemed. On the first point, François Benoy stressed that mobility was "key" in tackling the climate crisis and creating a more liveable city. Affordable housing was also a hot topic, with current chief alderman Serge Wilmes referring to the ongoing development of affordable housing units in the capital, although Gabriel Boisante was not convinced enough was being done in this area, arguing that more investment was needed.
The debate was heated at times, particularly over topics such as mobility, but constructive and offered the international business community a first insight in English (which is rare, as such political debates traditionally take place in Luxembourgish) into the candidates and their parties' policy ideas and priorities.
The event continued with a lively Q&A session and a networking cocktail, during which the discussions continued.