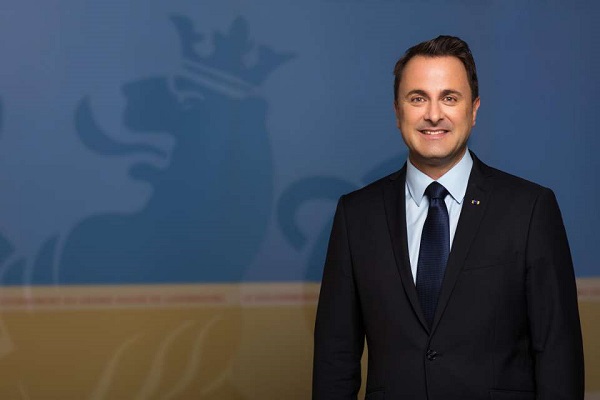 Luxembourg's Prime Minister Xavier Bettel; Credit: SIP / Yves Kortum
On Wednesday 22 June 2022, during his traditional speech on the eve of Luxembourg's National Day, Prime Minister Xavier Bettel emphasised the role played by solidarity in overcoming the COVID-19 pandemic, as well as its importance in the context of the war in Ukraine.
The Prime Minister began by stressing that it was thanks to the solidarity of the Luxembourg public throughout the COVID-19 pandemic that it was possible to celebrate National Day in a traditional way for the first time in three years, with people able to meet with friends and family. Whilst he recognised that the virus was still present, he noted that "collective efforts" as a society had succeeded in "bringing this pandemic under control so that we can live with the virus today, without risking overloading our healthcare system".
Prime Minister Xavier Bettel went on to describe National Day as a day of commemoration as well as celebration. He recalled that many people lost their lives due to COVID-19 over the past two years, stressing that "every death is one too many". He spared a thought for the victims and their families, before thanking healthcare workers for their efforts during this time.
On the subject of the war in Ukraine, he lamented that recent weeks had "felt like we have been thrust back a few decades into a dark time in our history". The Prime Minister emphasised that this war affects everyone, not least "because the Ukrainian people are fighting for values ​​that we carry high and celebrate on every National Day: those of peace, freedom and independence".
Prime Minister Bettel stated that it was "our duty to help the people in Ukraine", highlighting the fact that Luxembourg has been actively supporting the war-torn country since the beginning of the conflict, and it will continue to do so. Such solidarity has brought Europe closer together and made it "now more united than ever", he added.
Staying on the topic of solidarity, he praised that of the people of Luxembourg who "not only show solidarity with each other, but also with people from elsewhere who need our help". He particulary thanked those who had voluntarily welcomed Ukrainian families into their homes, as well as the initiatives of non-profit organisation, schools and individuals to support Ukrainian refugees.
The Prime Minister went on to reflect on the consequences of the war in Ukraine for the daily lives of people in Luxembourg, namely soaring prices, particularly in the field of energy, noting that "peace in Europe and the defence of our values ​​have a price". He added, however, that "this price should not be paid by all those who were already struggling to make ends meet before the war". In this context, he referred to the tripartite "Solidaritéitspak" (solidarity measures) which aims to ease this situation.
Another important issue in these uncertain and challenging times was climate change, which he described as "one of the challenges that should never be forgotten, regardless of what may happen in the world".
He later described National Day as an opportunity to "remember that the people of Luxembourg have already been able to cope with many difficult times", namely by working together. "Let's face our future together, with determination, solidarity and optimism", he stated.
As his speech came to a close, the Prime Minister highlighted the diversity of Luxembourg, "a country that welcomes nationals of all nations, who cohabit and work there peacefully". He continued: "Our openness to the world remains our best asset and constitutes one of the essential bases for the sustainability of our country", adding that the pandemic was further proof of this. He thanked every resident and cross-border worker for their contribution to the "Luxembourg model of success".
Luxembourg's Prime Minister concluded by wishing everyone a happy National Day, surrounded by their loved ones.