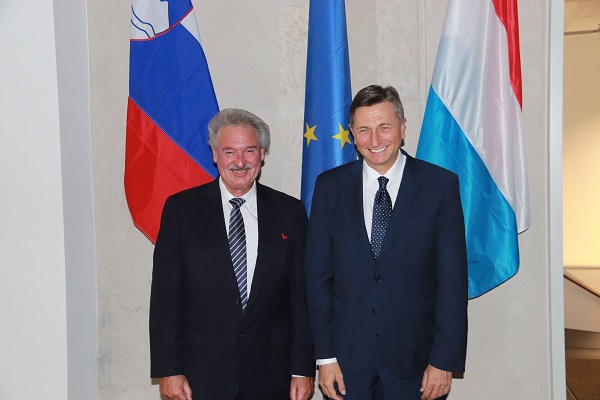 (Above): Luxembourg's Foreign Minister Jean Asselborn with Slovenia's President Borut Pahor; (below) the Slovenian President with HRH Grand Duke Henri; Credit: MAEE / Maison du Grand-Duc
The President of the Republic of Slovenia, Borut Pahor, paid a working visit to Luxembourg on 14 and 15 November 2021.
On Sunday 14 November 2021, President Borut Pahor was received by Luxembourg's Prime Minister Xavier Bettel for an interview. Discussions focused in particular on current European and international issues.
On Monday 15 November 2021, the Slovenian leader had a bilateral meeting with Luxembourg's Minister of Foreign and European Affairs, Jean Asselborn. During this meeting, both parties reaffirmed the excellent bilateral relations between Luxembourg and Slovenia, particularly in the economic and digital fields.
Minister Asselborn and President Pahor also discussed current European issues as well as the latest developments in the Western Balkans. Recalling that other international actors are trying to extend their geopolitical influence in the region, Luxembourg's Foreign Minister stressed that the European Union (EU) must remain vigilant as regards respect for the rule of law and democracy in these partner countries. With regard to EU enlargement, he recalled the role that the EU must play by providing the necessary support to the candidate countries in the adoption and implementation of the community acquis. Minister Asselborn reiterated that the EU must keep its commitments, especially towards North Macedonia and Albania.
Moreover, His Royal Highness the Grand Duke of Luxembourg received the Slovenian President in audience at the Grand Ducal Palace on the occasion of his working visit to the Grand Duchy.