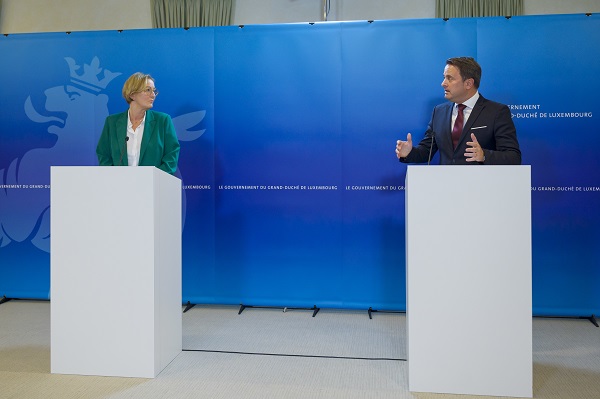 (L-R): Paulette Lenert, Minister of Health; Xavier Bettel, Prime Minister; Credit: © SIP / Jean-Christophe Verhaegen
On Saturday 17 October 2020, Luxembourg's Prime Minister, Xavier Bettel, and Paulette Lenert, Minister of Health, held a press conference to report on the current rate of increase of COVID-19 cases across the Grand Duchy following an extraordinary meeting of the government's cabinet.
Despite an increase in COVID-19 infections in recent days, PM Bettel dismissed introducing any new legislation or restrictions at this point in time in relation to COVID-19.
On Saturday, a total of 175 new infections were reported; on Friday, 227 new infections were recorded - a new daily record for Luxembourg. He explained, while that the number of infections is rising, the occupancy rate of hospital beds in both normal care and intensive care remains low. He stated that Luxembourg "still has the situation in hand, not like some neighbouring countries".
Minister Lenert stated that the current health situation is different to that in March, at the height of the pandemic.
PM Bettel revealed that the cabinet had agreed that further restrictions in the hospitality and retail sectors would not help curb the spread of COVID-19: he also appealed for the public to be disciplined and to follow all current guidelines and restrictions concerning physical distancing and hygiene, and also to telework wherever possible. He also advocated all schools to remain open. Travel remains unrestricted.
Minister Lenert reported that several retirement homes and care facilities have recently announced new measures, including banning all visitors.
A new testing centre is to be established at the National Library in Kirchberg from Monday 19 October to carry out COVID-19 tests more quickly: it will be open to all people with a doctor's certificate.