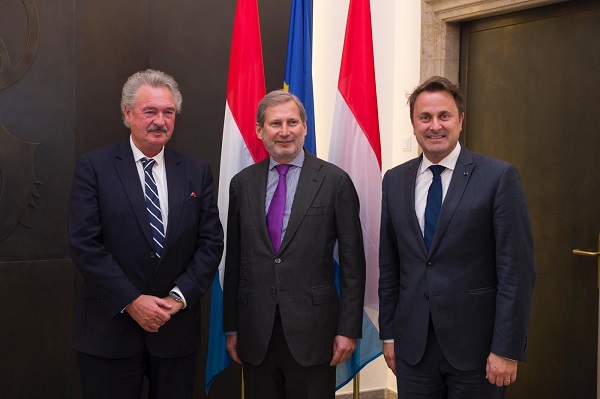 L-R: Jean Asselborn, Luxembourg's Foreign Minister; Johannes Hahn, European Commissioner for Budget and Administration; Luxembourg's PM Xavier Bettel; Credit: SIP / Jean-Christophe Verhaegen
On Wednesday 11 March 2020, Luxembourg's Prime Minister Xavier Bettel and the Minister of Foreign and European Affairs, Jean Asselborn, hosted Johannes Hahn, European Union (EU) Commissioner for Budget and Administration, for a meeting at the Ministry of State in Luxembourg-Ville.
This marked the first such meeting with the new European Commissioner for Budget and Administration, Johannes Hahn, since the von der Leyen Commission took office in December 2019. Discussions centred around the policies of the headquarters of the European institutions and the presence of the European Commission in Luxembourg, particularly in the context of the implementation of the Asselborn-Georgieva agreement of 2015.
During the meeting, Luxembourg's Prime Minister and Minister of Foreign and European Affairs both expressed their pride at Luxembourg being the seat of many European institutions and reiterated their wish to see the European Commission's presence in Luxembourg further consolidated, particularly in the legal, financial and digital areas. With this in mind, they stressed the importance of fully implementing the commitments made during the Asselborn-Georgieva agreement.
Prime Minister Xavier Bettel stated: "Luxembourg will continue to fully honor its commitments. Constant dialogue with our partners is very important to us and I am delighted to have a trusted partner in Commissioner Hahn".
The meeting also provided an opportunity to exchange views on the negotiations under way on the European Union's (EU) multiannual financial framework (MFF) for the period 2021-27. In this context, Xavier Bettel and Jean Asselborn stressed that the future MFF must be able to implement the strategic agenda of the EU - although the cuts currently planned in the next budget would not allow this. Minister Asselborn explained: "A declining budget is not compatible with the common political agenda for the future of the European Union".
Regarding European public administration, Jean Asselborn recalled that: "Luxembourg cannot accept drastic cuts, given that the European Union and its member states need a strong, efficient and attractive". In this regard, the Prime Minister concluded by declaring: "If we want to achieve our objectives for the future of the EU we must give ourselves the necessary financial, human and institutional resources. This is why Luxembourg continues to make a significant commitment to a quality European function".