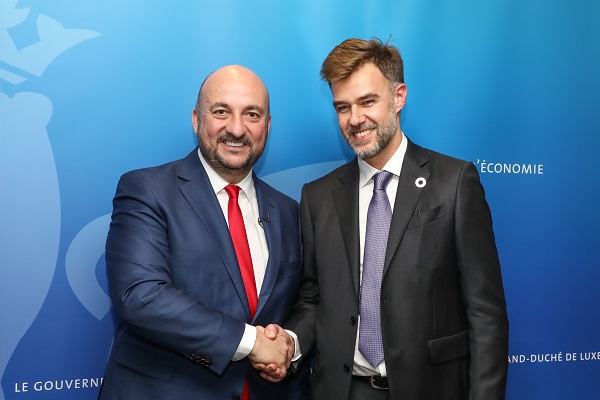 L-R: Étienne Schneider, outgoing Minister of the Economy; Franz Fayot, Minister of the Economy; Credit: SIP / Luc Deflorenne
On Tuesday 4 February 2020, LSAP politician Étienne Schneider officially resigned from his roles as Luxembourg's Deputy Prime Minister, Minister of the Economy and Minister of Health.
On the occasion of his departure from government, Étienne Schneider was received by His Royal Highness the Grand Duke at the Grand Ducal Palace, where the latter granted the outgoing minister honorable resignation.
Franz Fayot was then sworn in as a new member of the government. He was appointed Minister of Cooperation and Humanitarian Affairs (replacing Paulette Lenert) and Minister of the Economy. Similarly, Dan Kersch, Minister of Sports and Minister of Labour, Employment and the Social Solidarity Economy, was appointed Deputy Prime Minister, retaining his ministerial portfolios. For her part, Paulette Lenert, Minister of Consumer Protection and outgoing Minister of Cooperation and Humanitarian Affairs, was appointed Minister of Health and Minister Responsible for Social Security, retaining her position as Minister of Consumer Protection.
After their swearing-in in by the Grand Duke, an official handover ceremony took place yesterday. This ceremony saw the transfer of the ministerial powers of Health from Étienne Schneider to Paulette Lenert and those of the Economy to Franz Fayot.
A handover ceremony between Paulette Lenert and Franz Fayot, concerning the powers of Minister for Cooperation and Humanitarian Action, will take place on Wednesday morning.