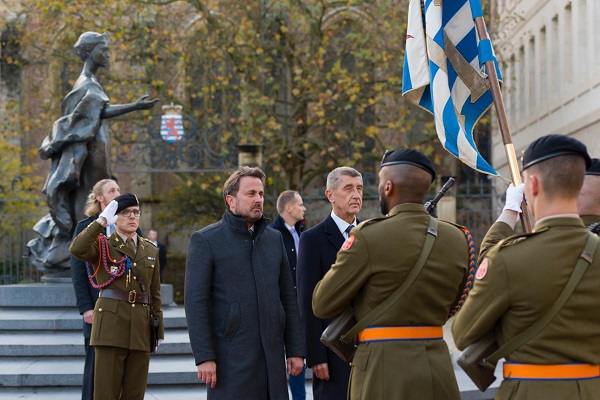 Luxembourg Prime Minister Xavier Bettel and Czech Prime Minister Andrej Babiš; Credit: SIP / Jean-Christophe Verhaegen
The Prime Minister of the Czech Republic, Andrej Babiš, arrived in Luxembourg yesterday for a two-day official visit.
On the first day of his official visit, on Thursday, Prime Minister Andrej Babiš was welcomed with military honours by Luxembourg's Prime Minister Xavier Bettel at Place Clairefontaine. The two Prime Ministers then reviewed bilateral relations between their two countries during a meeting at the Luxembourg Prime Minister's office.
On this occasion, Prime Minister Xavier Bettel stated: "First and foremost, I would like to highlight the good relations between Luxembourg and the Czech Republic, which are based on a long common history that can be traced back to the birth of Charles IV, son of John the Blind - or Jan Lucembursky in Czech - 700 years ago. Our links are therefore historical and cultural, but - nowadays - also political: we work together in the interest of our citizens in international institutions to face the challenges of the 21st century, especially in the European Union, the NATO and the UN".
This meeting was also an opportunity to address contemporary European issues. Xavier Bettel explained: "It is worth pointing out that on many fronts Luxembourg and the Czech Republic are on the same wavelength: for example, we are committed to deepening the single market - including the digital single market - and we wish to see the next Commission make it one of its priorities".
The issues of migration, the fight against climate change and the future multiannual financial framework were also discussed.
On Friday, the second and last day of this official visit, Prime Minister Xavier Bettel and his Czech counterpart will have the opportunity to deepen their discussions during a working lunch. Subsequently, the head of the Czech Government and the Mayor of the City of Luxembourg, Lydie Polfer, will lay a wreath at Square Jan Palach, in the presence of Xavier Bettel. In the late afternoon, Prime Ministers Xavier Bettel and Andrej Babiš will be greeted by Cardinal Jean-Claude Hollerich at the Notre-Dame Cathedral in Luxembourg. A guided tour of the crypt by Father Georges Hellinghausen and the laying of a wreath at John the Blind's tomb are also be on the agenda.