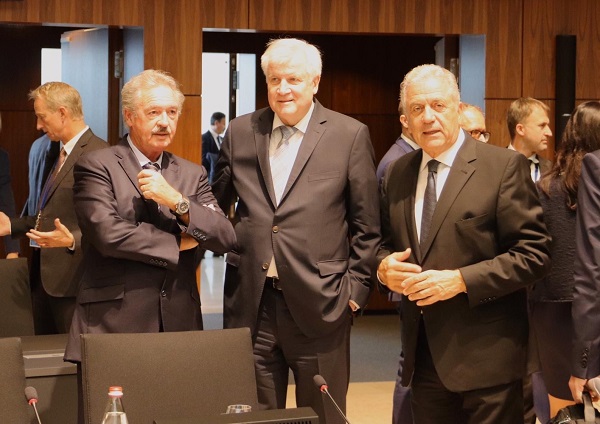 L-R: Jean Asselborn, Luxembourg's Minister of Foreign and European Affairs, Immigration and Asylum; Horst Seehofer, Germany's Minister of the Interior; Dimitris Avramopoulos, European Commissioner for Migration, Home Affairs and Citizenship; Credit: MAEE
Luxembourg hosted the most recent EU Justice and Home Affairs Council yesterday; Jean Asselborn, the Minister of Foreign and European Affairs and Minister of Immigration and Asylum, represented the Grand Duchy on this occasion.
In the area of ​​immigration policy, EU ministers discussed the upcoming challenges of immigration and asylum. At lunch, they discussed the situation in Cyprus and Greece with the resumed flow along the eastern migratory route, landing arrangements for the Central Mediterranean and reform of the Common European Asylum System (CEAS).
In his speech, Minister Asselborn lamented that "in the last few months, solidarity has been limited to a handful of Member States". Despite advocating for a flexible mechanism that allows a maximum number of member states and associated countries to join these efforts, he regretted that "if in the European Union, solidarity between member states is denied, it goes beyond the spirit of European construction".
With regard to the reform of the CEAS, Jean Asselborn encouraged member states not to disregard all the achievements of negotiations with the European Parliament.