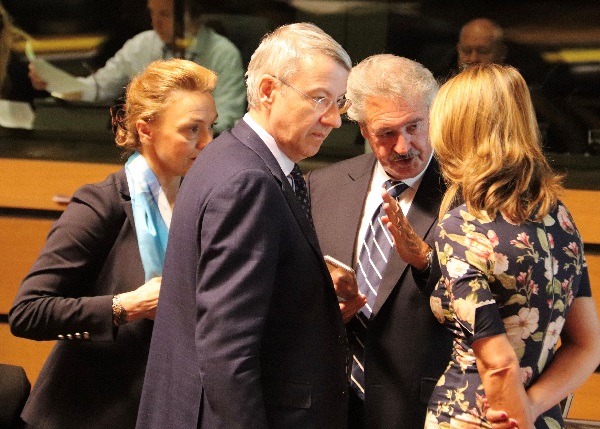 L-R: Marija Pejcinovic Buric, Deputy PM, Minister for Foreign and European Affairs of Croatia; George Ciamba, Minister Delegate for European Affairs of Romania; Jean Asselborn; Ekaterina Zakharieva, Minister for Foreign Affairs of Bulgaria; Credit: MAEE
On the occasion of the European Union Foreign Affairs Council (FAC), held on Tuesday in Luxembourg, Minister of Foreign and European Affairs Jean Asselborn advocated the launch of negotiations with the Republic of North Macedonia to the EU.
During the Council, ministers first discussed the next multiannual financial framework. They exchanged views on the revised draft negotiating framework sent to them by the Romanian Chairmanship following a series of technical and political discussions in the Council.
The ministers then turned to the 2019 enlargement package presented by the European Commission on 29 May. Luxembourg has expressed its belief that the process of EU enlargement has a positive transformative power in the Western Balkans and thus constitutes an investment in peace and stability in Europe.
In line with the June 2018 General Affairs Council conclusions, Luxembourg has thus shown support for the Commission's proposal to launch accession negotiations with the Republic of North Macedonia, as well as with the Republic of Albania. The launch of the negotiation process will allow these two countries to focus more on the necessary reforms, while the EU will get a valuable tool to monitor their individual progress.
On this subject, Minister Asselborn emphasised that the Council should give a positive response regarding North Macedonia, especially in view of the historic agreement on the name and progress made by a country that has been a candidate since 2005. Although the deepening of the EU is important, he argued that it is equally important to consolidate this positive dynamic.
The Council has stated its intention to return to the subject of North Macedonia and Albania by October 2019 at the latest.
Finally, in the context of the 2019 European Semester, the Council also considered a horizontal report on country-specific recommendations.