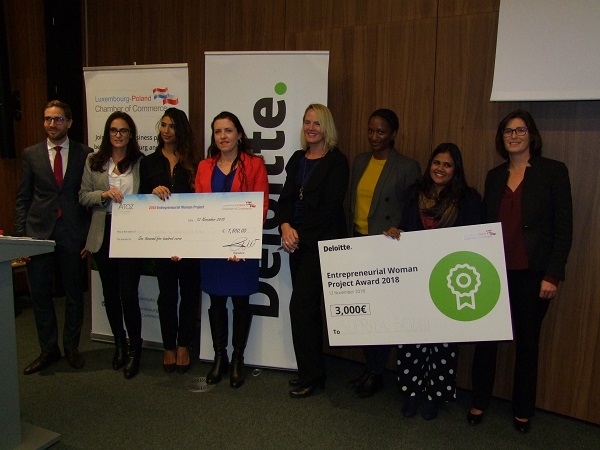 Entrepreneurial Woman Project Award winners 2018;
$At Monday evening's Annual General Meting of the Luxembourg Poland Chamber of Commerce (LPCC) at the premises of Arendt & Medernach in Luxembourg-Kirchberg, the Entrepreneurial Woman Project Awards were held.
Firstly, though, Artur Sosna, President of the LPCC, addressed the 120+ audience and reviewed last year's events which took place in Poland as well as in Luxembourg, which included the sending out of in excess of 100,000 emails - newsletters, event notices, reminders, etc.
For 2019, they plan to have an event on Space Mining, as well as nine meet-ups and other events.
On the financial side, the LPCC had a total income of €39,191.70 with a surplus of around €3,120 for 2017, up from 2016's figures.
Guest speaker Christine Mariani, an exceptionally inspiring entrepreneur Founder and CEO of MCM Steel, and winner of the Woman Business Manager of the Year Award in 2012 in Luxembourg, and winner of the Export Award in 2013, then made a presentation of her experience in starting and developing her business.
Entrepreneurial Woman Project Awards
The 5th edition of the Entrepreneurial Woman Project was undertaken with a series of six workshops from 29 September to 12 November, attended by a total of 30 women represented by 20 various different nationalities. The workshops addressed idea generation, taxation, effective communication, fundraising, project management, etc., but particularly it provided an avenue for networking.
The winners were announced as follows:
- 3rd: Catharina Salata, Organic Station (€1,000, by previous winners)
- 2nd: Danelle Caruana and Michelle Borg - The Beauty Crew (€1,500, by Atos)
- 1st: Supriya Sodhi, DogStays.lu (€3,000, by Deloitte)
To close the evening, there was live music and cocktails organised in the foyer.

/uploads/media/default/0001/01/6b2928f49404a4cc6fc9b37d98be33d697294c84.jpeg