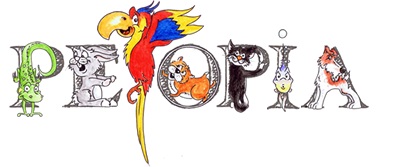 A new online information service has just been launched for people with pets in the Luxembourg region, Petopia.eu.
Petopia is the one-stop-shop for all one's domestic animal needs, regardless of whether it walks, swims, flies or slithers. From pet stores to pet doctors; specialty foods for pernickety eaters or bulk providers for omnivores; specialty breeders and mutt handlers; pet sitters and puppy trainers; places to exercise one's pet and places to lounge; and much, much more are to be found at www.Petopia.eu.
The intent behind the creation of Petopia Luxembourg is to establish the "ultimate information and services guide for your pets." It is the brainchild of husband and wife team Brie Witherspoon and Gianni Mecca, who moved to Luxembourg in 2012 with two dogs and a cat and began looking for a variety of services.
As Brie explained, "When we came here, we had to start from the beginning to find the essentials (i.e. vet, food, training, etc.). We spent a lot of time researching on the web as well as questioning friends and colleagues, and little by little began to build our own network of resources. Over the years we encountered many others who have experienced the same, time-consuming problem. This is where the idea for Petopia emerged. It is a simple platform designed to share vital information with established residents and newcomers alike. It's everything you need for pets."
Petopia is intended to be more than a mere directory. It is to function as a hub for a wide range of interconnecting services and interests. In its ever-changing Media centre, for example, one can find recommended books for leisurely reading, news stories and links to animal-related issues of the day, or art to enhance one's home.
If your dog has been hit by a car, or your horse throws a shoe and comes up lame, you may need to follow up visits to the veterinarian with visits to an animal physical therapist. Or perhaps you are interested in a future as an equine therapist working with children but do not know where to get legitimate, recognised specialty training. All of that information can be found in Petopia's therapy listing.
Suppose you use a lot of treats while training your fast-growing puppy, but do not want to the dog to become overweight. You might look up healthy diet-treats you can prepare at home or exercise tips on the site's nutrition page.
Another service that Petopia offers is current reviews of facilities and services, written by users as well as the site operators. The operators have visited many of these places to make sure they are as pretty in real life as they are in their pictures, and that they can really give the services they advertise and they have used some of these services with their own pets so they can provide people with honest recommendations for services that they will truly appreciate.