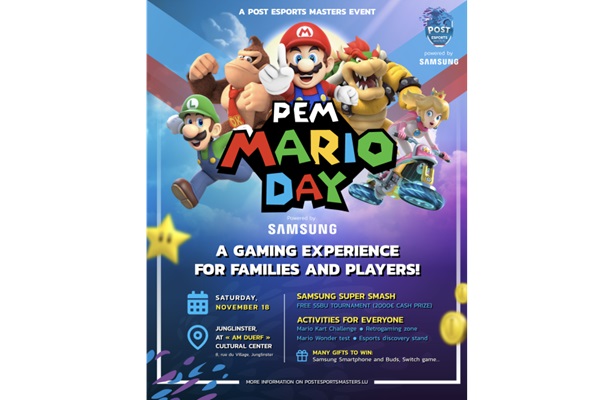 The POST Esports Masters has announced that they will organise a "PEM Mario Day" on Saturday 18 November 2023 at the Centre Culturel Am Duerf in Junglinster from 12:00 to 20:00.
This day, dedicated to the universe of Nintendo's Mario, will offer activities adapted to all ages and skill levels, from tournaments and challenges to game tests, including a retro gaming area and total immersion in the universe of esports.
This free-to-participate event strives to unite avid video game enthusiasts, familiar with esports competitions, and the general public. According to the organisers, Nintendo games, particularly those within the Mario universe, serve as an "ideal" bridge due to their competitive, yet family-friendly nature. Titles such as Super Smash Bros., Mario Kart and Mario Wonder are central to this connection.
Experienced gamers are invited to engage in the day's highlight activity - the SAMSUNG SUPER SMASH, a Super Smash Bros. Ultimate tournament (on Switch) with a cash prize of €2,000. Registration is required on postesportsmasters.lu. The matches will unfold on stage, will be broadcast live on Twitch and will be accompanied by professional commentary.
For those who seeking a challenge, there will be an opportunity to win the latest Samsung smartphone by securing the best time on Mario Kart 8 Deluxe (on Switch) or Samsung headphones through a draw by showcasing skills on Mario Kart Tour (on Smartphone).
For novices, the event provides a gateway into the world of video games and esports: witnessing a high-level esports tournament, exploring the retro-gaming zone (Nintendo 64, Gamecube, Switch, etc.), or trying out the new Super Mario Bros. Wonder game on Switch. There will be a chance to win a copy of the game through a draw.
In a commitment to fostering the video game ecosystem in Luxembourg, the POST Esports Masters collaborate with esports associations in the country, including RelyOn Esports, SweetSpot, Letz Smash and Videogames.lu.
The Luxembourg Esports Federation (FLES) and the Fédération Luxembourgeoise d'Esports (FLES) will be available to guide and inform visitors wishing to understand the world of esports, by providing information on professions, opportunities and ecosystem of this growing industry.