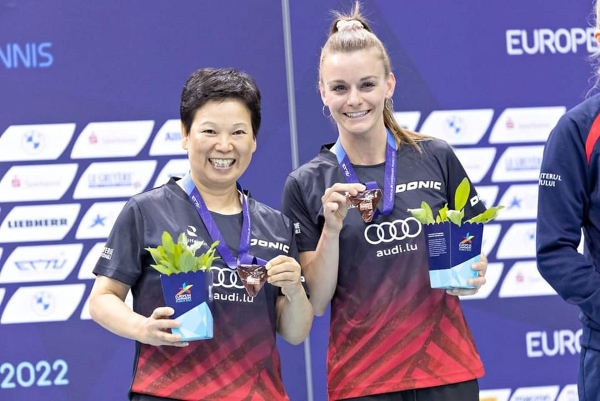 Credit: Christian Kemp / FLTT
On Thursday 18 August 2022, Luxembourg's Table Tennis players Ni Xia Lian and Sarah De Nutte missed out on the finals, losing 1-3 to the strong and experienced Romanians Elizabeta Samara and Andreea Dragoman, but won broze medal at this European Individual Championships in Munich.
The Luxembourgers got off to a perfect start. They controlled the first set from the start and finished 11-6. Samara and Dragoman also took an early lead in the second set and pulled away across the scores 7-3 and 10-6 to convert their first set point to 11-6.
In the third set everything looked like a clear set win for Ni and De Nutte, who started aggressively and flawlessly from the first point, quickly leading 4-0 and pulling away to 8-2. With their backs against the wall, Samara and Dragoman risked everything, caught up point by point, equalised at 9-9 and won the third set by 11-9.
Hope grew in the Luxembourg camp again at the beginning of the fourth set with 2-0 for Ni and De Nutte. With a 6-0, the Romanians pulled away to 6-2, Ni and De Nutte closed the gap again to 6-7. It was no longer enough to equalise. With a series of 4 own points, Samara and Dragoman finished 11-6 and the Romanians had 3-1 overall victory.