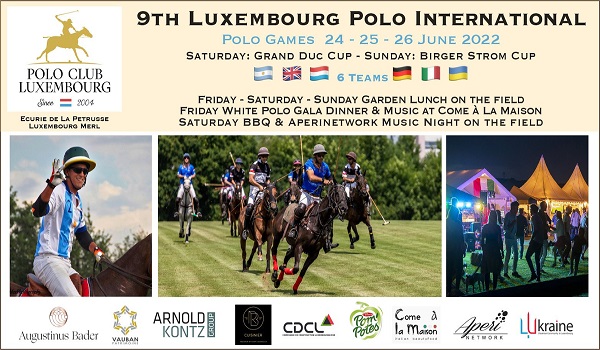 Credit: Polo Club Luxembourg
The Polo Club Luxembourg, which is celebrating its 18th anniversary this year, has announced that it is hosting the 9th Luxembourg Polo International tournament at Ecurie de la Pétrusse in Luxembourg-Merl (66 Rue des Celtes, L-1318) from 24 to 26 June 2022.
This prestigious tournament, already renowned in Europe, brings together six teams, i.e. 24 players of around ten nationalities and around 100 horses, who will compete on the polo field to win the two trophies at stake.
Highlights at this year's tournament include the presence of top international polo player Lia Salvo (for the first time in Luxembourg), who will defend the colours of Argentina, her country of origin.
From Friday 24 June, the qualifying matches will be organised, before the teams compete in the Grand Duke's Cup on Saturday 25 June. After the grand final on Sunday 26 June, the Birger Strom Cup, created as a tribute to the late polo player, will be awarded to the winners.
One team will play under the colours of Ukraine with the message #StandWithUkraine; its main goal will be to raise funds for LUkraine asbl, a local non-profit organisation representing and supporting the Ukrainian community in Luxembourg. The tournament organisers will also offer spectators the opportunity to purchase additional tickets which will be offered to Ukrainian refugees in Luxembourg. Profits will be donated to LUkraine asbl.
In addition to the polo matches, spectators will have the opportunity to admire vintage cars and eat lunch and dinner on the pitch, with food and beverages served by Come à La Maison. On Friday evening, the White Polo Gala Dinner will take place at Come à La Maison in Luxembourg-Hollerich, followed by the Full White Party (reservation only).
Tickets cost €25 per person per day (parking and one free drink included) when booked in advance or €30 per person per day when purchased on site on tournament days. Different formulas exist for the VIP Area Pass. Tickets are available online at https://poloclubluxembourg.com
Programme:
• Friday 24 June: Opening of the site at 11:30 (catering and bars) and polo matches from 14:00; White Polo Gala Dinner and music at Come à la Maison from 19:00 (limited places; by reservation only);
• Saturday 25 June: Opening of the site at 11:30 (catering and bars) and polo matches from 14:00; Grand Duke Cup; AperiNetwork Music Night and BBQ on the field from 18:00;
• Sunday 26 June: Opening of the site at 11:30 (catering and bars) and polo matches from 14:00; Birger Strom Cup / Final and prize-giving at 18:00.