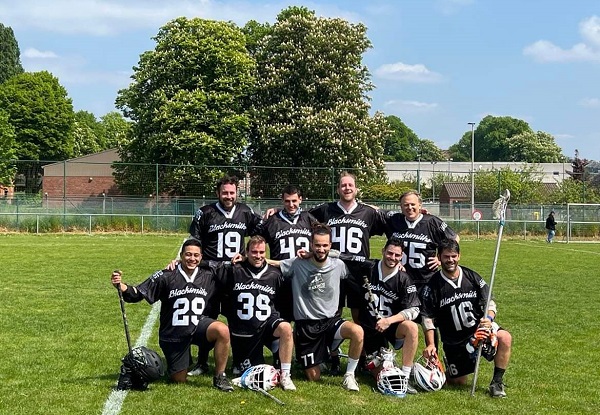 Blacksmiths Luxembourg, 8 May 2022; Credit: Luxembourg Lacrosse
The Luxembourg men's Lacrosse team, Blacksmiths Luxembourg, continued its most successful season to date with a win over Lille Seagulls on Sunday 8 May 2022.
Originally challenged by player availability due to the bank holiday on 9 May (Europe Day), the team travelled to Namur in Belgium to compete against the French side. According to Coach Henning Schmidt, Lille showed exceptional sportsmanship, accommodating Luxembourg's lack of one player and agreed to play 9vs9 rather than the regulation 10vs10.
Coach Schmidt commented: "Class act by Lille, they had numbers and would have been very much fully within their rights to capitalise. They accommodated our numbers – we applaud that sort of conduct and thank Lille for the match".
The first two goals were scored by Lille, forcing the Luxembourg defence to readjust. Two goals from Luxembourg international #39 K Giovagnoli following the first timed penalty for Lille allowed Luxembourg to level to 2-2 just after half of the first quarter. At this point, the experience and versatility of Luxembourg player #46 J Spautz showed in his first goal of the day. He described the offence as "simple and effective", the latter part would prove particularly true for him. Spautz's goal would be the first lead of Luxembourg that Lille would not manage to recover.
Early in the second quarter, Spautz expanded the lead, followed by a goal for Lille to close the Luxembourg lead to one goal after both teams survived one minute player send offs each. The Luxembourgish response was decisive: a string of six unanswered goals gave the Blacksmiths a decisive lead. This was fuelled by four goals from Spautz moving Luxembourg from 4-3 to 8-3 by the 44th minute, four minutes into the second half, having led Luxembourg ahead 6-3 at half time. The second goal of #39 K Giovagnoli and the first score of #19 P Barbier extended this further to a seven goal lead by the 50th minute. Lille responded to 10-4 but could not stem the offensive tide with another three goals from Spautz (two) and Giovagnoli to 13-4.
Lille delivered its strongest quarter in the fourth, scoring three goals. The game's intensity did not abate until the final whistle, indicated by the continued scoring: Luxembourg and Lille traded four goals levelling the last ten minutes of play at 2-2.
The final score of 15-6 was a product of strong success of the Blacksmiths in their offence and the ground ball game where the Blacksmiths secured a lot of additional possessions. Lille could not gain traction in the match despite their experience and talent, in particular in the form of their top scorer #19 F Labbé with five goals, as Luxembourg held a strong possession advantage.
#46 J Spautz contributed a record eight goals in one game, most in crucial phases and was supported in his scoring by fellow Blacksmiths #39 K Giovagnoli with another personal best of five goals and contributions from #19 P Barbier (one goal, one assist) and #77 S Salvatore (one goal, two assists).
The defence managed to stop a potent Lille offence while staying out of foul trouble for most of the game and helped goalie #43 G Batting to face limited shots. Coach Schmidt commented on the defence: "Batting is a product of our work [at] Lycée Guillaume Kroll and he has really delivered this season. Without him, Joshua (Spautz) would be in goal and not be able to score eight goals. All of our scorers are part of our international programme and we could not be more excited about their success today".
The Blacksmiths now have two more games to play although their league title is secured. Six wins out of seven games, with one loss against second ranked team Namur means the Luxembourg side will compete for promotion. This will be on 29 May 2022 at the Belgian Lacrosse league's playoff weekend. The team has one fixture left to keep the momentum on 22 May 2022 against upper division Machelen Minotaurs.
"This is the best season we have ever had and we look forward to two more games in hopefully great weather. We keep the eye on the prize and believe that promotion is completely possible – very exciting for all of us", concluded Coach Schmidt.