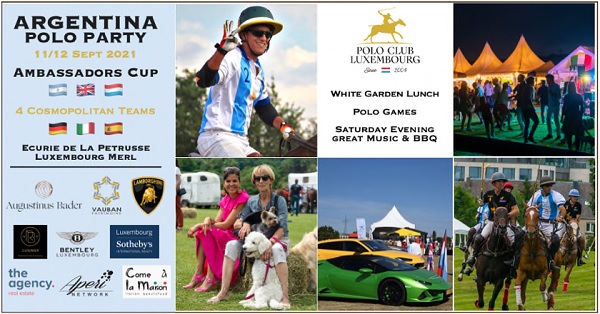 The Polo Club Luxembourg has announced that it is holding an Argentinian Polo Party that is taking place on Saturday 11 and Sunday 12 September at the Polo fild at 66 rue des Celtes, Luxembourg-Merl.
This event is being held with the support of the Argentinean Embassy.
The competition will involve 4 teams from 4 different countries, with 2 cups to win: Argentina with Augustinus Bader, United Kingdom with Sotheby's,
Luxembourg with Renaud Belouis, Italy with Lamborghini. A total of 20 cosmopolitan players riding splendid horses will compete on Saturday to win the Ambassadors Cup, and on Sunday the Argentina Cup.
An incredible and unique experience to share with family (children are welcome) and friends. A Charity Tombola will also be held, in aid of SOS Villages
d'Enfants Monde - Luxembourg.
Catering will be by Come à La Maison.
- White Garden Lunch on Saturday and Sunday from 12:30 - the chic and relaxed way to have lunch by the polo field and enjoy the matches. Dress code in the colours of the Argentine flag (sky blue, white, gold) - choose one, two or three colours; wearing a nice hat (any style) is also a tradition on a polo field.
- Asado Grande (giant BBQ) on Saturday evening from 18:30 onwards, on the Polo field, after the matches, Music on the Field (DJ) - an opportunity to discover Argentine products (wines, meats, empanadas, Alfajores, dulce de leche...), in the presence of the players, petiseros, sponsors, partners and all polo aficionados.
Programme:

• Saturday 11 September 2021: Ambassadors Cup
11:30: Opening of the site / Catering & Bar open
12:30: Saturday White Garden Lunch
14:30: Matches
18:00: Prize Giving
18:30: Music on The Field & Asado Grande (Argentinean BBQ)
• Sunday 12 September 2021: Argentina Cup
11:30: Opening of the site / Catering & Bar open
12:30: Sunday White Garden Lunch
14:30: Matches
18:00: Prize giving
For further details, including reservations and ticketing, see https://poloclubluxembourg.com/