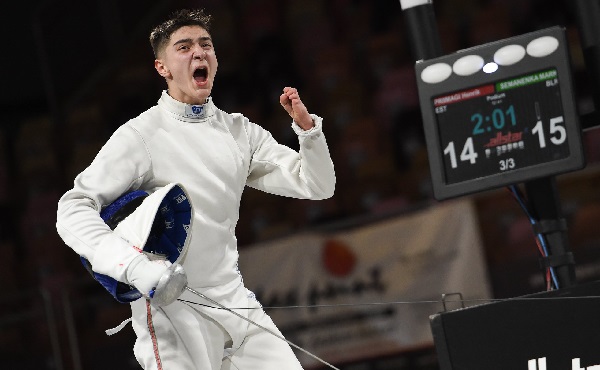 Mark Semanenka; Credit: Eva Pavía
Belarusian and Spanish fencers Mark Semanenka and Claudia Aribas emerged victorious at the European Cadet Circuit held last weekend at d'Coque in Luxembourg.
On Saturday, the first day of this year's European Cadet Circuit, organised by the Esch Fencing Association under the auspices of the Luxembourg Fencing Association, Belarusian competitor Mark Semanenka prevailed among 74 participants in the "Cadets Individual Male - Epée" category. Semanenka proceeded to the finals and kept the upper hand against Estonian opponent Henrik Priimagi with a 15:14 victory.
In 27th place, Ivan Pchelinste from Cercle Escrime Luxembourg was the highest ranked Luxembourgish participant in this category. Luo Ziquiao (Escrime Sud), a fellow young local talent, failed to secure another victory after three wins and two defeats and ultimately finished in 40th place.
His Royal Highness Prince Louis attended the men's finals on Saturday and presented the medals to the tournament winners.
On Sunday, the women's tournament saw Spain's Claudia Aribas secure first place. Representing Luxembourg, Anna Zens, a 17-year-old who finished in 9th place at the European Circuit in Belgrade this year, ranked 12th in the finals at d'Coque. The young fencer will now focus on her performance at the European Cadet Circuit in Grenoble this coming weekend. Due to her good results at the European Circuit, she has already secured her ticket for the European Championships in Porec (Croatia) in February 2020.
In the team category, Luxembourg finished in 10th place following a defeat in the second round against the Belarus and Denmark teams and victories against Spain and Italy. Spain ultimately dominated the team rankings.